MTN  is re-focusing its business on building an integrated digital operator and the results are encouraging.
The shift is part of a strategy to focus on the FinTech, digital, enterprise, and wholesale business areas. This is to position Africa's largest mobile phone operator for the future where voice business will no longer be its bread and butter.
MTN makes about 59% of its revenue from voice. In the six months to end June, MTN's voice revenue rose 4.5% to R40 billion.
However, this picture is slowly changing as MTN continues its journey to transform itself into a digital operator.
In the six months to June, MTN's wholesale revenue shot up by 127,9% to R2.6 billion, driven by national roaming contracts in South Africa (Cell C and Telkom). This was also supported by solid growth in MTN GlobalConnect where the operator signed up more key accounts and grew application-to-person messaging services through the Yellow Connect platform.
Wholesale constitutes one telco selling excess capacity to another telco.
The group's data was up by 19,8% to R16,1 billion, supported by healthy growth in active data users to 82 million as MTN improved the coverage and quality of data networks. Across its markets, MTN increased 3G and 4G population coverage by 24,4 million and 32,5 million people respectively.
FinTech rose by 30,7% to R4,7 billion and digital declined by 42,5% to R1,4 billion due to continued optimisation of traditional value-added services.
To drive FinTech strategy, MTN also appointed Yolanda Cuba asGroup Chief Digital and Fintech Officer, reporting to the Group CEO Rob Shuter.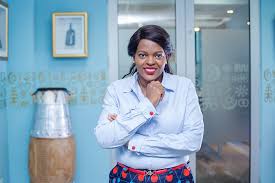 For more read: Yolanda Cuba is On Garden Leave Before Joining MTN
FinTech revenue growth was supported by customer growth of 8,9% to 30 million active Mobile Money (MoMo) users with a monthly ARPU of $1,30.
The total value of transactions in the six months to June was $44,1 billion, and MTN processed 9 193 transactions per minute.
In May, MTN launched Africa's first MoMo artificial intelligence service or chatbot in Ivory Coast. "Our aYo joint venture insurance business recorded almost 4,2 million registered policy holders across our African footprint in the first half, as we launched the offering in Ghana," the company said.
"We remain focused on building our digital operator strategy, focusing on being a scale player in both our evolving telco services as well as digital and FinTech and delivering on our medium-term targets," said Rob Shuter, MTN's CEO.
Group subscribers increased by 7,7 million to 240 million and the company rolled out our Pulse youth offer in 16 markets. Pulse youth offer is a prepaid price plan aimed at the youth market.
The company rewarded its shareholders with a gross interim dividend of 195 cents per share despite headline earnings per share (HEPS) – South Africa's main profit gauge – declining to 195 cents from 215 cents in June 2018.
HEPS were negatively impacted by the servicing of the Nigeria fine interest; hyperinflation (excluding impairments), the impact of foreign exchange gains and losses, and divestments. HEPS were further impacted by the depreciation of the Iranian rial, which resulted in lower earnings from MTN Irancell.
"Despite these headwinds, we progressed with our plans to build a digital operator, growing service revenue by 9,7% and EBITDA by 10,2%, which supported solid growth in operational earnings," said Shuter.
"Our holding company leverage ratio remained stable at 2,3x and we reduced our Capex intensity to 16,9%."