Things keep getting worse for the JSE-listed group.
At 12:20 today, Blue Label Telecoms shares fell 6.1% to slide all the way to R2.92 a share, pushing the company's market value way below the R19.3 billion in October 2016 when the firm invested in Cell C.
The company's shares have more than halved in the past year, giving it a R3 billion in market value.
This is more than R2 billion lower than the controversial R5.5 billion paid by Blue Label Telecoms for its 45% stake in Cell C.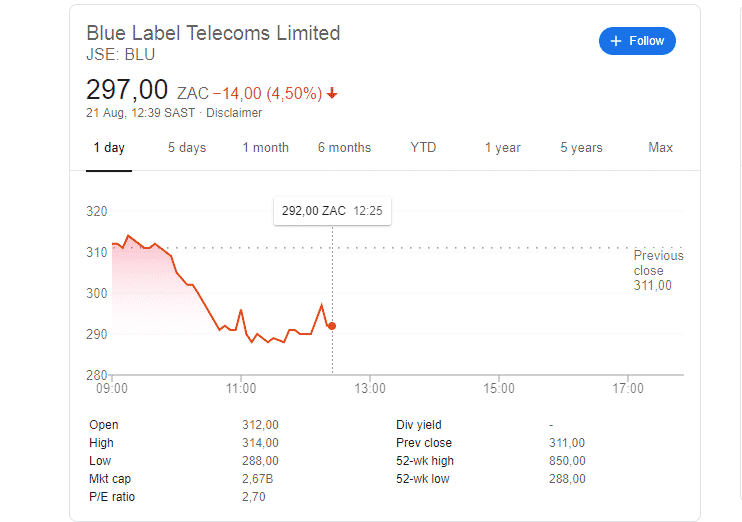 The latest reason why Blue Label Telecoms shares are tanking stems from the woes at the country's third-largest mobile phone operator.
Blue Label Telecoms is the biggest shareholder in Cell C, South Africa's crisis-hit mobile phone operator.
Two weeks ago, Blue Label Telecoms shares took another nosedive as it emerged that troubled Cell C has fallen behind on payments to MTN for using its network.
Cell C has a roaming agreement with MTN.
In its half-year results, MTN announced that it is owed R393 million by Cell C and has written off a part of the amount.
The share price of Blue Label Telecoms was hammered, reflecting investor concern that the troubles at Cell C may be far from being resolved.
The company, which distributes prepaid electricity and airtime, expects core headline earnings per share (HEPS) for the year ended 31 May 2019 to decrease by more than 20% versus the previous year. HEPS is South Africa's main profit gauge.