Crisis-hit Cell C has defaulted on interest payments of loans due July 2019 on certain bilateral loan facilities totalling 40% of its total debt at Dec. 31, 2018, according to rating agency S&P Global Ratings, which today lowered the company's rating to default.
The mobile phone operator, which has been grappling with debt for some time now, has been a drag on its biggest shareholder Blue Label Telecoms.
The operator is struggling to service an almost R9 billion debt load.
Shares in JSE-listed Blue Label Telecoms, which owns half of Cell C, tumbled 7.43% to close at R2.74 a share.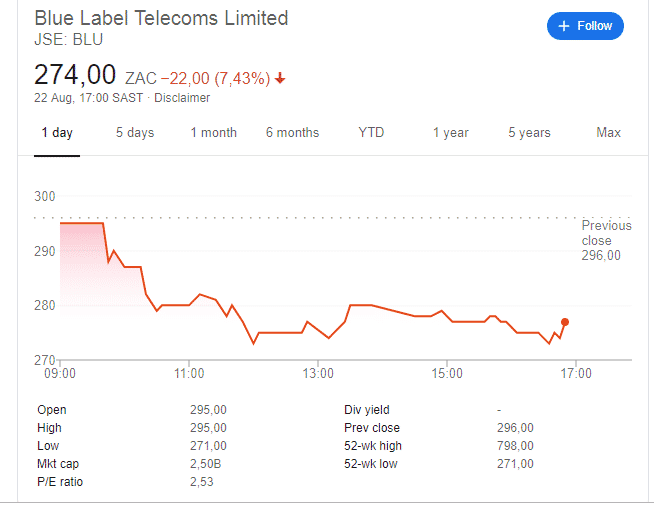 The rating agency's move to downgrade rating on Cell C to 'D' (default) from 'SD' (selective default), and lowering rating on the company's senior secured term loan to 'D' from 'CC'. came after Cell C failed to make about R194 million in interest payments due last month.
"It also reflects our expectation that the company will not make these payments within the 30-day grace period due to its decision to suspend future payments," said the ratings agency.
"We believe there is an increased likelihood that Cell C will be unable to repay all or substantially all of the obligations as they come due, unless it is able to restructure its debt and recapitalize its balance sheet."
Cell C said in a statement that the suspension of interest payments in July as part of the wider initiative to improve liquidity and to restructure the company's balance sheet.
Douglas Craigie Stevenson, Cell C CEO, said the mobile phone operator continued to work proactively with all stakeholders to improve its liquidity, debt profile and long-term competitiveness as part of its strategic roadmap.
"We are committed to simplifying the business model, right-sizing and optimising the business.  We have engaged with S&P throughout this process and believe we are on the right track with the transactions currently being finalised," he said.
S&P Global Ratings added in a note published today that this non-payment of interest has triggered an event of default under cross-default conditions included in Cell C's other bilateral loan facilities' agreements and the indenture governing the $184 million senior secured notes due 2020.
"This leaves Cell C exposed to the possibility that bilateral lenders and noteholders will exercise their right to accelerate repayment of their facilities. However, no bilateral lenders have yet exercised this right, while we understand the situation with noteholders is developing following Cell C's announcement. Cell C does not have sufficient liquidity to cover a potential acceleration event or meet its ongoing interest obligations. We understand the company remains engaged with its lenders to restructure terms and resolve the default."
Blue Label Telecoms is attempting a second recapitalization of Cell C. The JSE-listed firm is in talks with The Buffet Consortium for a recapitalization programme.
As part of this recapitalization, Cell C recently announced a non-binding term sheet to extend its national roaming agreement with mobile network operator MTN.
"Nonetheless, we believe there are still various steps that need to be completed prior to recapitalization, including the signature of a binding long-form agreement with MTN Group, possibly shareholder and regulatory approvals, and the restructuring of bilateral facilities," said S&P Ratings.
"We lowered our issue rating on the $184 million senior secured notes to 'D' from 'CC', even though Cell C has not yet missed a payment obligation on the notes," said the ratings agency.
"We believe that given the ongoing operational and balance sheet restructuring, even if there is no acceleration by noteholders, a payment default or a distressed exchange offer on the notes is virtually certain."
The next interest payments is due Dec. 1, 2019.