South Africa, with one of the worst savings rates in the world, has more of a debt culture than a savings one.
The latest savings statistics make for grim reading.
The South African Savings Institute recently stated that the household savings rate had plunged from an already poor 0.4% of gross domestic product last July to negative 0.5% this year, effectively labelling this country as a nation of dis-savers.
Enter Jupiter, a savings based FinTech company with a focus to deliver a frictionless and enjoyable savings process through its app, which allows everyday South Africans to earn stable and positive real returns on their cash savings, with the ability to withdraw overnight.
"We have contracted with Allan Gray to aggregate savings and invest solely in their stable and meaningful yielding money market account – and use this yield to distribute a meaningful, above-inflation interest rate to our clients – starting from their first R1," Jupiter Savings' co-founder Avish Brijmohun, told TechFinancials on Wednesday.
Brijmohun have spent a decade in multiple roles and product houses in the Retail banking wing of FNB and the broader FirstRand Group. During which time he built up deep experience and skills in the savings; investment and rewards aspects of the banking sector.
He co-founded Jupiter Savings with Luke Jordan, who has 15 years experience in consulting (McKinsey); finance (World Bank) and technology (builder of the fantastic Grassroots app).
Jupiter Savings is app-based, across iOS and Android to cater to all South Africans.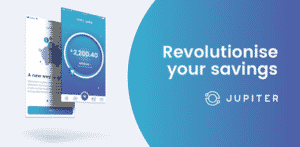 The co-founders aim to launch the app in 2020 after the Financial Sector Conduct Authority (FSCA) has reviewed its application and grants Financial Service Provider (FSP)license.
"We are a platform business, so no advice, but licensed as a financial intermediary service – there are competitors in the market operating without an FSP license, and we feel very strongly that this type of business does require a license," Brijmohun says.
The establishment of Jupiter Savings is inspired by China's Ant Financial Yua Bao, USA-based Robinhood's zero commission and by Italy and UK-based Oval Money's friction-free design.
We started Jupiter with the premise that everyone wants to do better for their families and themselves. This includes setting themselves up financially to be able to take advantage of life's opportunities," Brijmohun says.
"From a financial perspective, the building blocks to set yourself up for any goals which matter to yourself are without a doubt, being able to dip into your savings instead of borrowing unsecured loans at eye-watering rates"
He added that the problem is that saving is:
– A long journey – and littered with false starts;
– is unexciting;
– difficult to know whether you are getting the best rate for your money without doing lots of legwork;
– largely unrewarded vs spend rewards (both in happiness and monetary rewards);
– and a lonely process which isn't celebrated by anyone but yourself.
Jupiter Savings is building machine learning algorithms which are used to encourage repeated and consistent savings behaviours – on each client's unique behaviour and timeline, via behavioural economic nudges.
The FinTech firm says technology is critical in order to be able to take the savings market to the next level, not just because of the significantly lower costs of operating a platform vs a brick and mortar network, but also for the ability to keep in contact with its clients.
"Creating a base of new savers is essentially an exercise in behavioural economics.," says Brijmohun.
"So, we used behavioural economic learnings to tap into our client's predictable irrationality – and created reward and penalty programs to incentivise clients to not just keep regularly saving, but also to sporadically add more to their savings in response to behavioural triggers, thereby increasing their net savings.
"The use of both the "carrot" and "stick" is employed to tempt clients to continue good behaviours and our tests has shown positive results in our clients saving more than if they saved by themselves," Brijmohun explains.