The problem with a lockdown is it works, but only for a short period, explains Associate Professor Co-Pierre Georg, convenor of UCT's sought-after master's in financial technology.
As we've seen, governments around the world are resorting to drastic measures to curb the spread of the virus.
Many countries have imposed lockdowns of varying lengths as a means of slowing the spread of the deadly COVID-19.
South Africa has extended its 21-day lockdown by two weeks to the end of April.
Other countries are already under pressure to immediately lift tough lockdowns so they can jump-start their economies.
However, many experts warn that massive testing must be carried out before any safe lifting of lockdown regulations can be made.
From tracking contacts of infected patients through contact and geo-location tracing to immunity passes, novel technologies are at the forefront of our fight against COVID-19.
Although we've made great progress, many of these high technology tools employed compromise the user's privacy.
It is partly with that thought in mind that Georg and a group of researchers at the University of Cape Town created COVID-ID.
The app enables health authorities to trace the physical contacts a person has after they test positive for COVID-19.
The idea is that no one should be subjected to restrictions due to COVID-19 longer than necessary.
"We are building the simplest product so that we can restore our basic liberties," says Georg.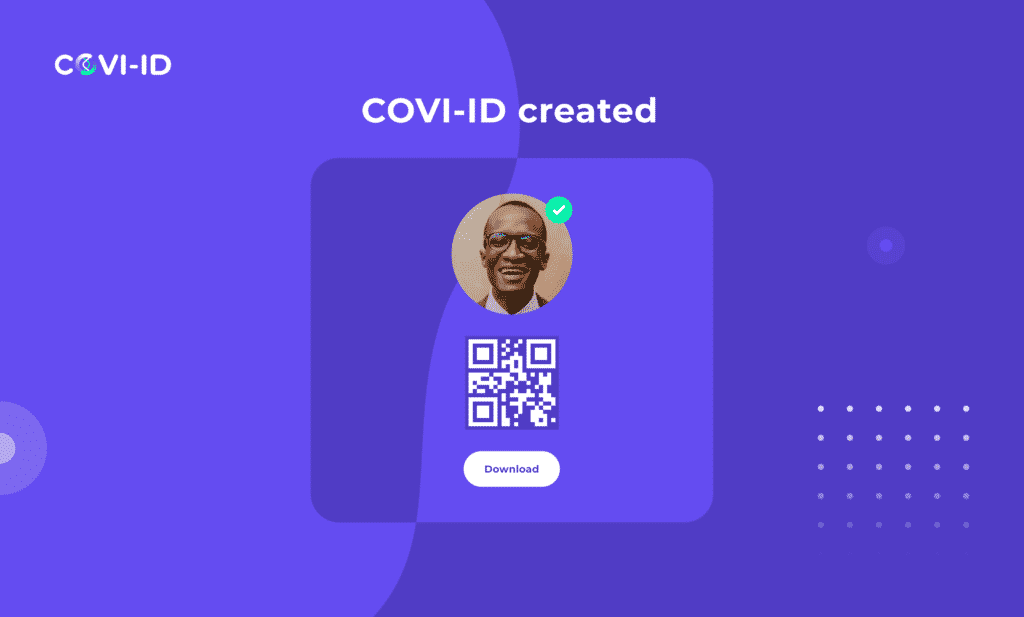 The founders claim that the platform named Covi-ID, a smartphone app launched on April 16 is encrypted, giving everyone the ability to prove their COVID-19 status reliably and without loss of privacy.
The blockchain-powered app allows users to verify their COVID-19 status.
The idea of exposing personal information to government agencies through an app could ring alarm bells for discerning citizens.
Some people will go through great lengths to avoid being tracked in this manner.
Avoidance and consequential lack of adoption leads to faulty or incomplete data, which would ultimately defeat the purpose of such an app for public health purposes.
However, using blockchain technology, which helps to ensure the protection of privacy, Georg and his team have put impressive measures in place to protect an individual's personal information.
The Covi-ID app will collect a user's location and infection status, and, store it on their phone using a technology called self-sovereign identity.
This information will not go to a centralised government or private-sector database.
The process entails taking a photo to prove the user's identity, as well as providing their full name and telephone number, which can be a friend or relative's in cases where users do not have their own cellphone.
Each user will be issued a QR code that can be printed, or potentially issued on a card like a bank card.
This QR code can then be scanned by authorities to prove a user's COVID-19 status.
This provides the user with full authority and control over who gets access to the data, for what purpose and for how long.
"Privacy is a human right recognised by the United Nations and we cannot sacrifice it in the interest of public health," says Georg.
In a related development, Covi-ID is introducing an app for businesses.
"We believe that once the lockdown ends, businesses will need to create additional layers of security to decrease the chance of further outbreaks due to infected customers," Georg explains.
A supermarket, taxi, bank, or school can download Covi-ID business app for free.
Using this app, they will be able to scan your QR code and verify your COVID-19 status.
To protect your privacy, this app uses the green-amber-red colour scheme to indicate your status.
Green status means the user has either recovered from COVID-19 or recently tested negative.
Once a vaccine is available, vaccinated users will be issued a green status.
Amber status means the user has not recently been tested and has not yet contracted the virus.
If you have an amber status, a business may implement precautionary restrictions.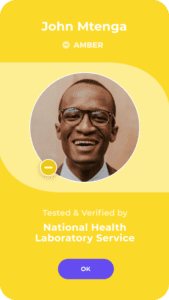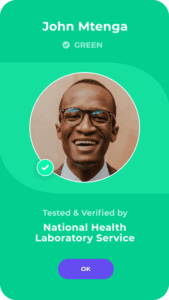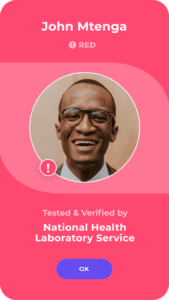 For example, Pick 'n Pay may say only 30 people with an amber status are allowed in their store at a specific point in time.
Red status means the user is infected and should self-isolate.
Medical professionals are the only individuals who should be trusted with your personal health information.
As a user, the Covi-ID app will enable you to connect with your medical professional of choice and ask them to verify that your status is indeed true.
"It is important to note that businesses and Covi-ID will not have access to any of this information. Upon scanning your QR code, the only information you divulge is your name and COVID-19 health status," assures Georg.
The founders of Covi-ID are building an open-source system instead of walled gardens created by Facebook, Google, or Amazon, where they control as much of the data, innovation, and ecosystem as possible.
"We are fully opened source and it will remain that way," Georg explains.

"We have received very generous funding that allows us to have the verifier apps and custodial wallets to be open source."
Who will be the custodians of the wallets?
"It can be large corporate partners such as Standard Bank and Old Mutual. They will be able to offer these wallets to their customers. We are thus creating our competition. We are not the next Facebook, but the next internet," says Georg.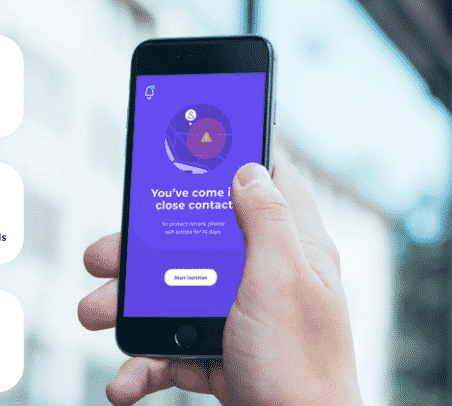 "We are focused on user adoption. We will not start contact-tracing immediately because we are still looking into the API's (Application Programming Interface) from Google and Apple. This will be released in the next versions.
"We are currently working on our decentralised system to avoid the problem our colleagues have run into in Singapore."
Covi-ID is the result of collaboration among a group of South African academics, students, entrepreneurs, and privacy activists including Georg, Michael Mtenga, Bingle Kruger, Charl Everts, Zanele Kubheka, Hannah de Noberge, Alex Stewart and Kirstin Detering.
The co-founders have never met in person because of the lockdown but somehow, they have been able to work together remotely to build Covi-ID.
Covi-ID has partnered with a local corporate venture builder Delta to develop this mobile app that aims to stop the spread of the COVID-19 virus in South Africa.
"The intention is to track the virus, not the people," says Louis Buys, CEO of The Delta, a venture builder that specialises in the validation, building, championing and scaling of startups.
"Through blockchain technology applications like COVI-ID, we can assist in containing the spread of the virus without compromising the privacy rights of individuals."