President Cyril Ramaphosa said on Thursday night the country would begin a gradual and phased recovery in economic activity.
"Our people need to eat. They need to earn a living. Companies need to be able to produce and to trade, they need to generate revenue and keep their employees in employment," he said.
"We have accordingly decided that beyond Thursday 30 April, we should begin a gradual and phased recovery of economic activity."
"We will implement a risk-adjusted strategy through which we take a deliberate and cautious approach to the easing of current lockdown restrictions."
Ramaphosa added that the government has decided on this approach because there is still much that is unknown about the rate and manner of the spread of the virus within the population.
"The action we take now must, therefore, be measured and incremental. We cannot take action today that we will deeply regret tomorrow."
He added that the country must avoid a rushed re-opening that could risk a spread, which would need to be followed by another lockdown as has happened in other countries.
"We have to balance the need to resume economic activity with the imperative to contain the virus & save lives."
On Tuesday, Ramaphosa announced a R500 billion stimulus package to deal with the economic impact of COVID-19.
The impact of the coronavirus requires an extraordinary coronavirus budget – of around R500 billion – to direct resources towards fighting the pandemic, said Ramaphosa.
He said this would include reprioritisation of around R130 billion within the current budget.
"The rest of the funds will be raised from both local sources, such as the Unemployment Insurance Fund, and from global partners and international finance institutions."
The country's national treasury is working with the World Bank, International Monetary Fund, BRICS New Development Bank and the African Development Bank on various funding transactions.
For more read: SA President Ramaphosa Announces R500-bn Stimulus Package
As of today, there are 318 newly confirmed cases of COVID-19 in South Africa, bringing the total number of cases to 3953.
Today we regrettably report 10 new deaths. This brings the total to 75. The new deaths are from the following provinces: Western Cape: 6 KZN: 2 Gauteng: 1 Eastern Cape: 1. For more read: Coronavirus: SA's Confirmed Cases Rise to 3, 953, Death Toll now at 75
Ramaphosa said the government has developed an approach that determines the measures the country should have in place based on the direction of the pandemic in our country.
As part of this approach, there will be five coronavirus levels:
Level 5

 means that drastic measures are required to contain the spread of the virus to save lives.

Level 4 means that some activity will be allowed to resume, subject to extreme precautions required to limit community transmission and outbreaks.
Level 3 involves the easing of some restrictions, including on work and social activities, to address a high risk of transmission.
Level 2 involves the further easing of restrictions, but the maintenance of physical distancing and restrictions on some leisure and social activities to prevent a resurgence of the virus.
Level 1 means that most normal activity can resume, with precautions and health guidelines followed at all times.
To ensure that our response to the pandemic can be as precise and targeted as possible, there will be a national level and separate levels for each province, district and metro in the country.
Here's what will happen under the Level 4 lockdown: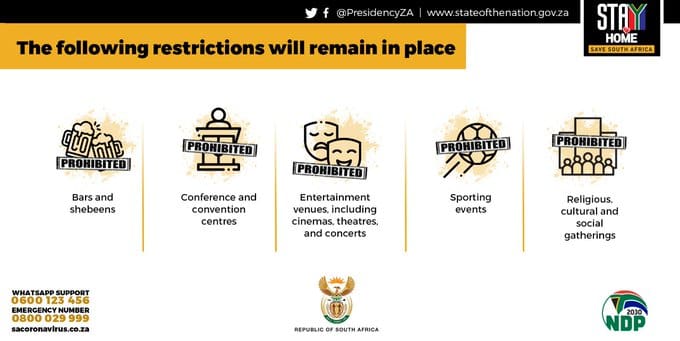 The continued closure of borders;
No travelling between provinces;
People may exercise under strict conditions;
All gathering aside from funerals and for work are prohibited;
Those that are elderly and with underlying conditions must remain at home;
The range of goods which may be sold will be expanded  – including the sale of cigarettes;
Bars and shebeens will remain closed;
Conference and convention centres, entertainment venues, cinemas, theatres, and concerts will remain closed;
Concerts, sporting events, and religious, cultural and social gatherings will not be allowed until it is deemed safe for them to continue.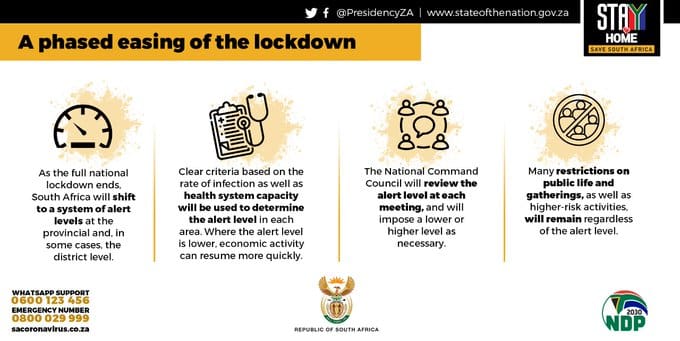 Ramaphosa said the relevant ministers will provide a detailed briefing on the classification of industries and how each is affected at each level.
"During the past five weeks, we have demonstrated to the entire world what a nation can achieve with courage, determination & solidarity. We must not give up now. I am asking you to stay strong. I am asking you to remain united."