Vodacom is scaling up its financial services offerings to empower the lives of customers through financial inclusion, and the investment is paying off.
The Vodafone-owned operator said Monday it had added 6 million new financial services customers in the year to 31 March 2020, pushing its total customers to 53.2 million clients, reflecting a 12.8% jump compared to the previous year.
The technology company said its group financial services revenue rose by 22% to R18 billion.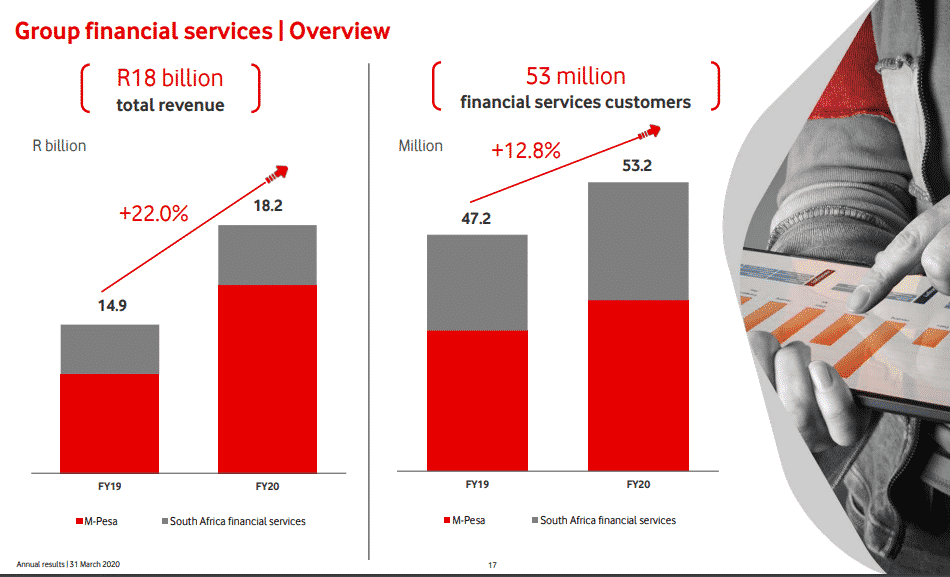 The company's key market of South Africa contributed R2 billion in revenues after experiencing a 21.5% increase on the back of our popular Airtime Advance, insurance and VodaPay services (direct airtime, prepaid electricity, bills).
The South African operations' insurance business, known as Insure, saw a 16.1% increase in revenue pushed higher by a 45.3% jump in new policies to 1.9 million policies. The company's insurance services include devices, funerals and life.
"Within the payment space, we launched our VodaPay application during the year, offering direct airtime purchases and electricity payments with more to follow in the future," Vodacom informed investors.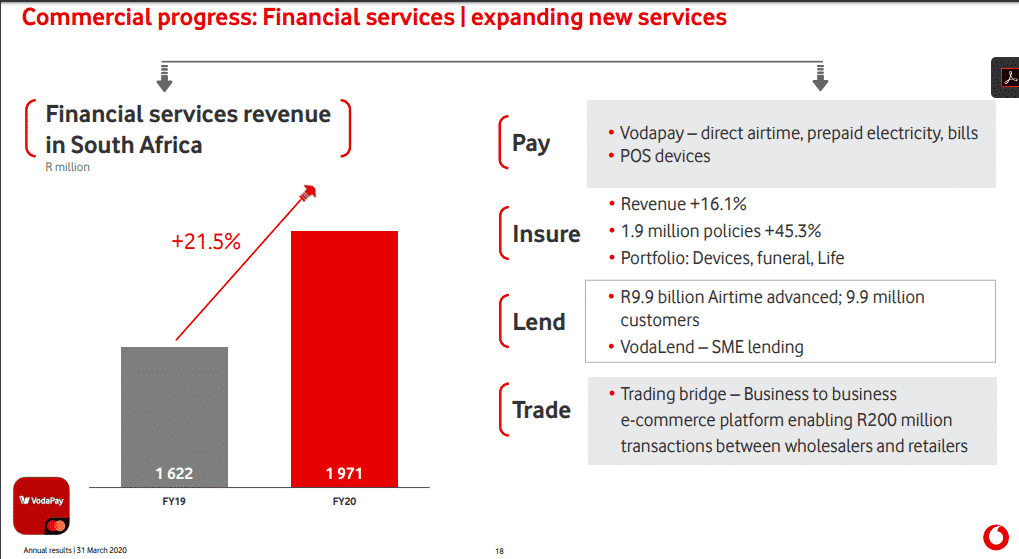 "We have also expanded our lending services to the first phase for small-to-medium enterprise lending, and in insurance products, we continue to add new offerings while improving process and profitability."
The company added that 13.6 million customers in South Africa are using its financial services products.
"We advanced R9.9 billion in airtime via our Airtime Advance platform to 9.9 million customers," the company said on Monday.
MPESA and Nano Lending Platforms
The Vodafone-owned group added that its M-Pesa ecosystem continues to grow across all operations. 
M-Pesa revenue growth was 29.8% to R4 billion, and customers rose by 9.2% to 14.7 million, representing 38.2% of its customer base. 
The company said it has 40 million customers transacting on M-Pesa across all its operations, generating total revenue of R16.2 billion and growing at 22% a year.
"Our focus, with our newly created joint venture, is to ensure that we align all product roadmaps across our operations and continue to expand the M-Pesa ecosystem across all countries.," said Vodacom CEO, Shameel Joosub.
"This will include the roll-out of nano lending platforms and getting the system ready for a smartphone world, where we can onboard more partners in this space.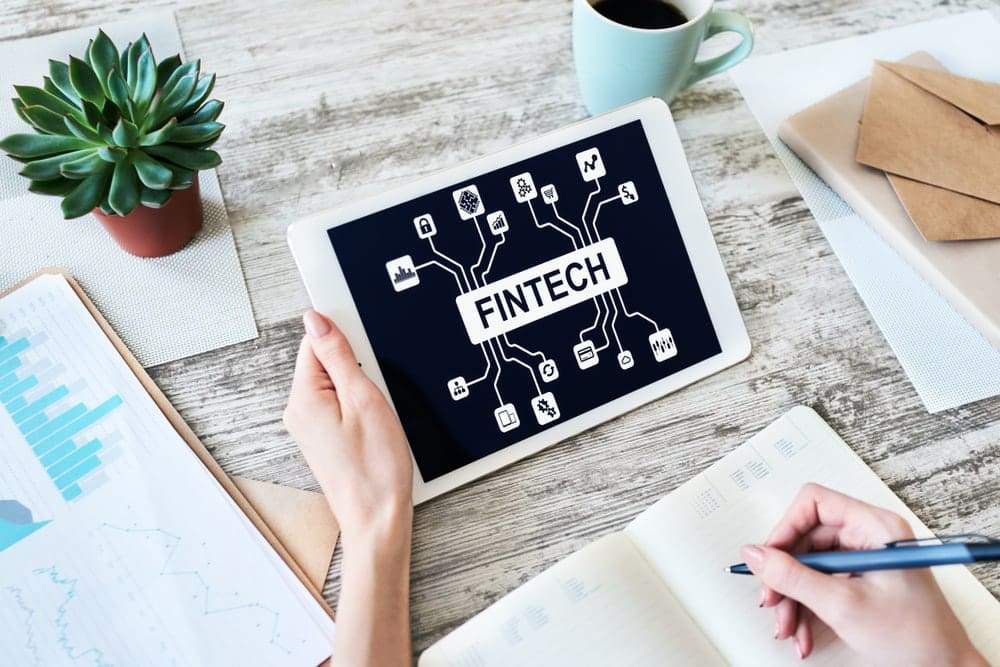 "Our nano lending platform is already being used by 17 million customers in Kenya and Tanzania, where it is driving our commitment to promote financial inclusion."
Vodacom said it had advanced $2.5 billion (R45 billion) in loans through nano lending in the year to March 2020.
Vodacom and Safaricom acquired the M-Pesa brand, support and product development services from Vodafone through a newly-created joint venture.
Joosub said the transaction will accelerate M-Pesa's growth in Africa by giving both Vodacom and Safaricom full control of the M-Pesa brand, product development and support services. It will also provide the opportunity to more closely align product roadmaps to be deployed across all markets, he said. The effective date of the transaction was 31 March 2020.
Joosub added that M-Pesa continues to deliver on its promise of providing financial inclusion, while at the same time positively contributing to economic growth in markets where it is ubiquitous. 
"Having expanded the M-Pesa ecosystem, customers in our International markets, including Safaricom, now process more than $14.7 billion (R268 billion) a month in transactions through the platform."