The Jaguar I-PACE – the world's first premium all-electric performance SUV – now offers a new fast, intuitive infotainment system and quicker charging capability, making owning and driving an electric vehicle easier than ever.
It now delivers even more technology to make living the electric life simpler and more rewarding than ever.
It is the first Jaguar to feature the new Pivi Pro infotainment system.
I-PACE now comes with an 11kW on-board charger as standard, enabling customers with access to three-phase electricity supplies to enjoy significantly faster charging: when connected to an 11kW wall box 53km of range (WLTP) per hour can be achieved, while a full charge from empty now takes only 8.6 hours – ideal for overnight charging at home.
South African customers with access to single-phase supply only can continue using 7kW wall boxes which charge up to 35km per hour, with a full charge taking 12.75 hours.  When charging 'on the go', a 60kW charger will add up to 76km in 15 minutes, whilst a 100kW charger will add up to 127km over the same period.
 "When we developed the I-PACE we wanted it to be the world's most desirable electric vehicle and to show what happens when Jaguar goes electric. I think we've achieved those ambitious goals, and now we've made it even better with a new infotainment system, three phase charging and technology that benefits driver and passengers alike," Alan Volkaerts, Vehicle Line Director, Jaguar I-PACE, said.

"We've also subtly enhanced the design with an Atlas Grey finish to the grille mesh and with the new Bright Pack option. I-PACE was the first premium all-electric performance SUV: every change we've made ensures that it's still the benchmark in its class."

Jaguar I-PACE is now smarter, better connected
Smarter, faster and better connected:
The new Pivi Pro infotainment system is a highlight of the I-PACE's spacious, luxurious interior. The 12.3-inch high-definition virtual instrument cluster, 10-inch and 5-inch upper and lower touchscreens** and multi-function, haptic rotary controllers are matched to crisp, clean, contemporary graphics for an engaging, intuitive user experience.
Inspired by smartphones, Pivi Pro is easy to use, while its powerful processor and 'fast start-up' ensure the system is ready to go by the time you're in the driving seat. Supported by a built-in back-up battery, navigation initialisation takes just a few seconds.
The new and intuitive flat menu structure makes navigating the system easy with the features and functions you use regularly accessible via the home screen with just a click. The redesigned navigation system reduces the number of steps required to set a destination by half, and customers are now able to pan and zoom in and out of the map with a pinch of the fingers, just as with a smartphone.
I-PACE is now available with an optional wireless device charging pad beneath the 'floating' centre console. Wireless charging also includes signal boosting, ensuring the phone's signal remains stronger for longer.
A Smartphone Pack with Apple CarPlay and Android Auto is standard, as is a dual modem embedded SIM and Bluetooth technology which can pair two phones simultaneously ensuring you'll always be connected.
The new Pivi Pro infotainment system will help to get you where you want to go in less time and with less effort. The navigation uses self-learning algorithms to optimise routing, voice guidance even knows to remain quiet when you're travelling through areas you know, and maps will always be up to date thanks to software-over-the-air (SOTA) functionality.
Driver assistance and wellbeing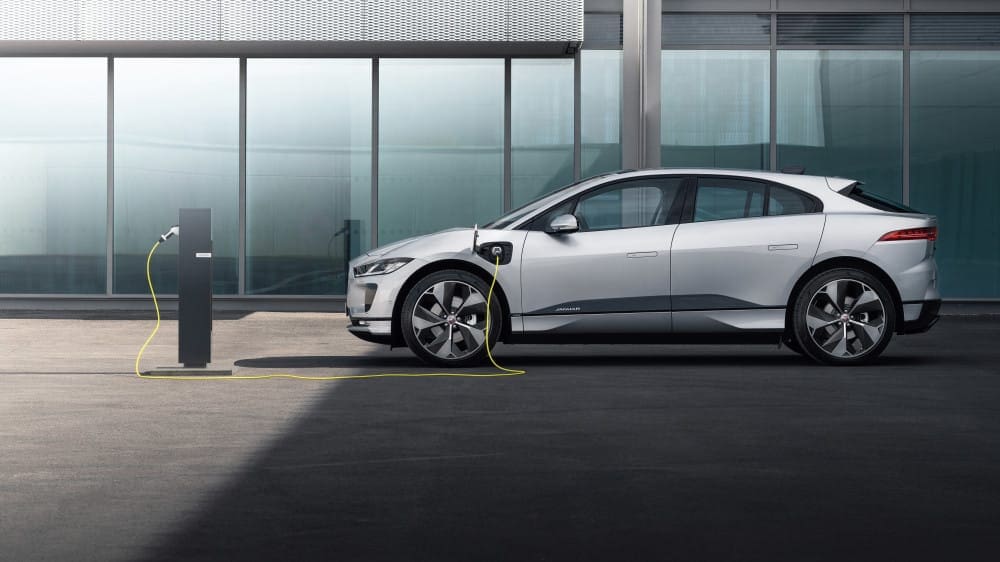 The I-PACE has been designed to keep you and your family safe and was awarded the maximum five-star EuroNCAP rating.
State-of-the-art digital technology further assists drivers and road users. Visibility is significantly enhanced with a new 3D Surround Camera that provides a 360-degree digital plan view of the surrounding area and potential hazards, visible through the central touchscreen.
Inside the cabin, the ClearSight rear view mirror improves vision and convenience by ensuring the driver always has an unobstructed view of the road behind, even with three people in the rear seat or with the 656-litre luggage compartment loaded up to the roof.
ClearSight uses a wide-angle, rear-facing camera linked to a high-resolution screen within the frameless glass mirror. A small toggle switch on the mirror allows the driver to switch seamlessly between the view from the standard mirror and the camera feed.
Neatly integrated within the roof-mounted antenna module, the high-definition camera works in all conditions, including low ambient light, while a protective lip and hydrophobic coating help to repel water and ensure the camera lens remains as clean as possible.
Going electric made easy
The Jaguar I-PACE has been designed to ensure every step of the customer journey delivers peace of mind and makes owning an electric car as easy as possible.
With a range of up to 470km (WLTP) from its 90kWh battery, customers with an average daily commute would only need to charge their I-PACE once a week.
I-PACE is offered with an 8 year or 160,000km battery warranty.
A range calculation tool on www.jaguar.co.za makes it easy to see how factors such as vehicle speed, ambient temperature and climate control settings can influence the real-world range you could expect to achieve.
For queries 'on the go' I-PACE customers can also get help 24/7 from the I-Assistance service – at the touch of a button they'll be connected directly to an expert to answer any queries about the vehicle.
Jaguar Partners with home-charging providers all over the world, making charging your car as easy as charging your phone.
Every home charging point from Jaguar's recommended partners comes smart enabled, meaning you can conveniently activate and deactivate you charging progress straight from your smart phone.
When charging in public places the I-PACE's charging cable locks into place as soon as the car is locked, and cannot be disconnected until the vehicle is unlocked, giving you the freedom to go about your day while the vehicle charges up.
The Jaguar I-PACE has an Eco Mode which helps preserve range by reducing energy depletion and encouraging a more efficient driving style. It also makes subtle changes to cabin temperature, air recirculation and to a number of the car's other features. You can override these changes by normal operation of each feature or via the menu settings.
The I-PACE is equipped with Software over the Air (SOTA) functionality. This means Systems including infotainment, battery management and charging can be updated remotely and enable the I-PACE to continuously improve over time.
The updated Jaguar I-PACE is expected to launch in South Africa toward the end of 2020.