2020 has without a doubt been the strangest year due to the COVID-19 pandemic and all the social and economic issues that come with it. If you feel like you want to pull your hair our, don't worry, you aren't the only one. South Africans are dealing with more stress than ever and that's why we decided to take the 2019 short-term Ombudsman's report and give you a quick overview.
Why do consumers need to see this report? This report coupled with the SA-csi 2019 report, analyzing consumers experiences with their insurance companies, gives us guidance on future insurance decisions such as which car insurance company was the most complained about etc.
If you are looking for better or cheaper car or household insurance, you can use this quick online insurance calculator to compare insures side by side:
"In April we saw a decline in complaints, and that was predominantly because 49% of our complaints are from motor accidents and motor vehicle claims."
Said OSTI CEO Edite Teixeira-Mckinon
 Ombud recovers R94.9m in 2019 for consumers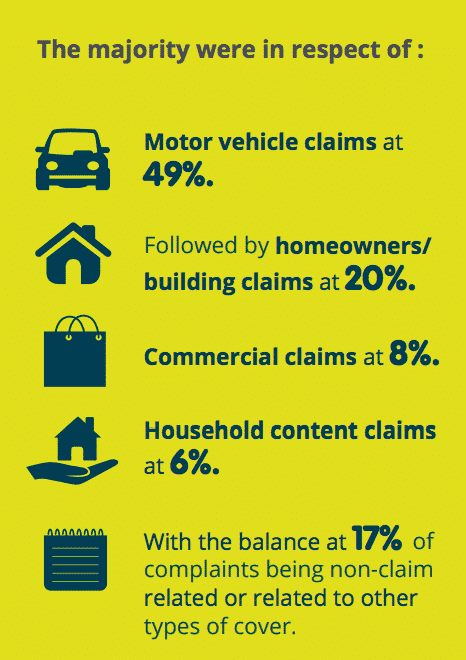 Thank goodness for the Ombudsman right!
During 2019 the OSTI dealt with 10 367 complaints and successfully closed 9167 of those cases. In doing that they recovered R94.9m for the insured. As usual car insurance made up majority of these complaints (49%), followed by homeowner's insurance complaints (20%), Commercial insurance complaints (7.9%) and household insurance complaints (6%).
"Going to court is expensive and combative, so our office offers a safe space for the resolution of disputes. In addition, our decisions don't set any precedents and each matter is decided on its own merits.". Teixeira-Mckinon said that there are real concerns of cancellations for insurance packages during the lockdown in 2020.
Who was the most complained about Short-term insurance company?
As difficult as it is to determine who the worst short-term insurance company is, we look at 2 factors namely:
Amount of Complaints received by OSTI per thousand Claims
Number of matters resolved through enforcement by the OSTI
| | | |
| --- | --- | --- |
| Name of Insurer | Number of Complaints received by OSTI per thousand Claims received by Insurer | Share of matters resolved through enforcement of OSTI |
| New National | 10,2 | 2,09% |
| Dial Direct | 5,6 | 2,11% |
| Oakhurst | 5,1 | 2,16% |
| Budget | 4,7 | 1,52% |
| Absa | 4,5 | 1,48% |
| King Price | 4,4 | 1,73% |
| First for Women | 3,8 | 2,11% |
| MiWay | 3,6 | 1,60% |
As seen in the table above the difference between the most complained about insurance company and the second most complained about insurance company is almost double. The top 3 most complained about insurance companies namely New National, Dial Direct and Oakhurt all had an enforcement rate of over 2%.
Want to see which insurance company had the least complaints as well as who was rated the best by consumers in the SA-csi report click here.