South African skincare, beauty, and cosmetics brand, Justine, has inked a partnership with award-winning celebrity chef and media personality Lorna Maseko to become the face of A-Firm Brightening range, one of the brand's flagship products that have recently been launched to the market.
Maseko will be the face of A-Firm Brightening range, a portfolio of products that are specifically formulated to address the aging skin concerns of women.
"I wish to take this opportunity to welcome Lorna Maseko to the Justine family. The partnership with this dynamic entrepreneur is a marriage of two great brands that share similar synergies and have a rich and proud heritage. Her passion for ingredients is similar to ours at Justine. We use science to harness the best from nature to bring South African woman the best in skincare, and she fuses ingredients to unleash the flavour and bring out the aromas from ingredients.
"She has blazed a trail in the culinary world and has carved a name for herself in this fiercely competitive industry. Justine has a proud pedigree of developing world-class products that have served as benchmarks in the industry. We are confident that this partnership will leverage the attributes of the respective brands for mutual benefit and will have positive spin-offs for our consultants, business owners, and customers as well," says Momin Hukamdad, Justine Executive Marketing Director.
Says Maseko: "Justine is a brand that has been in South Africa for over 45 years – this for me speaks of longevity and interest in South Africa. It's a trusted brand that is loved by South African women and used by them. It stands for women empowerment and inclusion – and I'm all for that! This partnership is very exciting for me. I grew up with Justine products in my home. And to partner with such an iconic brand is truly amazing. I'm looking forward to the journey ahead and look forward to what's in-store."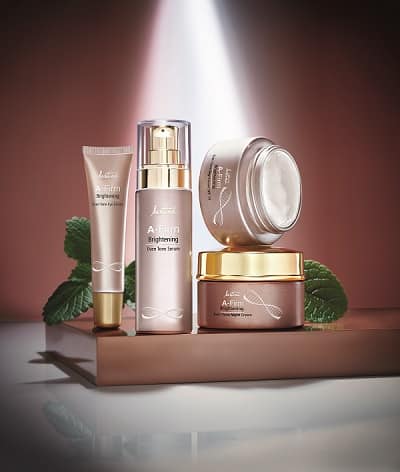 Justine customers can now buy A-Firm Brightening directly from a Justine Consultant and/or Business Owner, or the Justine website on https://my.justine.co.za/ Customers will have their orders directly delivered to their doorstep when they make a purchase valued at R600 or more.
Justine is a proudly South African brand that turned the beauty industry on its head in 1973 when it created the iconic formula – the original tissue oil – which marked a turning point in the fight against the appearance of scars and stretch marks and improving the smoothness of the skin.
"Our 47 years of Justine have put us in the foreground in understand what South African woman really needs. Over the years the key differentiator for Justine has been looking after South Africa's skin needs by developing a range of skincare products that are specific for the local climate and are on par with international standards and brands. We are proud of this heritage and we have committed ourselves to work tirelessly to bring more customised beauty and cosmetics products that cater to the unique needs of our customers," Hukamdad concludes.
Want to join Justine? Justine is passionate about South African skin solutions and the enablement of financial independence of our Justine Consultants and everyone interested in this movement. Whether it's part-time or full time, the power to earn more money is in your hands!
If your goal is providing for your family, putting a little something away for yourself, or working towards a life-long dream, becoming a Justine Consultant will empower you to get where you're going.
SIGN UP NOW: https://my.justine.co.za/become-a-consultant