We've known for all of Fortnite Season 6 that soccer superstar Neymar Jr. would be coming to the game at some point, but the details have been very scarce about what to expect. Neymar Jr can be contained no more!
Starting this week on April 27, you can tackle his Battle Pass Quests, allowing you to unlock his Outfit and other items from his high-octane Set. By completing Neymar Jr Quests and Epic-rarity Quests, unlock and unleash his primal forms.
Also, visit Creative mode for a player-made Welcome Hub and Island inspired by Neymar Jr's arrival, and compete in the Neymar Jr Cup for a chance to win a custom soccer boot from Neymar Jr's team at PUMA!
Neymar is the first pro athlete to be featured in Fortnite.
THE NEYMAR JR CUP: COMPETE FOR A CHANCE TO WIN A CUSTOM-DESIGNED SOCCER BOOT
Win a real-life piece of the primal. On April 28, players will be able to compete in the Neymar Jr Cup for a chance to win a custom-designed soccer boot, inspired by Neymar Jr's primal form (Exhibition).
The top player per region in this Solo tournament will be sent one of these commemorative items! Players can also win the new Spinner Takes All Emoticon as part of the tournament.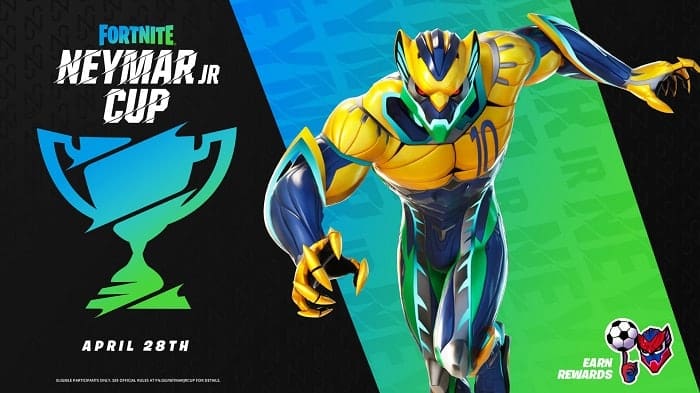 Players can play up to 10 matches in their region's three-hour time window, and the specific timing for each region can currently be found in the Compete tab in-game.
To participate in the Neymar Jr Cup, players must have Two-Factor Authentication enabled on their Epic account and be at account level 30 or above.
Full tournament rules can be found at the Neymar Jr Cup official rules page.