Available now, the all-new MyMTN Sky Bronze, MyMTN Sky Silver, MyMTN Sky Gold and MyMTN Sky Platinum packages offers customers unlimited MTN-to-MTN calling on selected price plans, All-net minutes, Anytime premium data, International calling, Hello World Roaming bundles and 400 SMSs per day along with bespoke lifestyle benefits and signature experiences.
"Our new MyMTN Sky packages are for our customers who spend a lot of time on their phones and are looking for innovative solutions that offer premium lifestyle benefits. It's about going above and beyond what customers have come to expect from their mobile service providers and offering maximum value on contracts matched with handset deals", says Jacqui O'Sullivan, Executive: Corporate Affairs at MTN SA.
Included in the MTN Sky packages: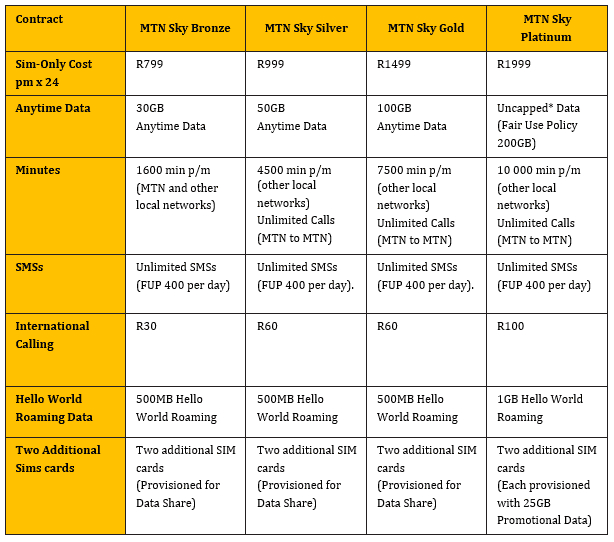 With the new MyMTN Sky customer will also have access to the following rewards:
Priority Help Desk
International Calling and Hello World Roaming Bundles
Two additional Sim Cards*
Unlimited MTN to MTN Calls*
Flight Vouchers (International flight vouchers and local flight vouchers)
Accommodation at premier hotels and resorts
12-Month dinning vouchers (R100 off the second meal)
Outdoor experiences
SweepSouth vouchers
YelloBucks
Customer can conveniently redeem rewards through the MTN App within the MyMTN Gifts wallet.
In addition, as part of the Summer campaign customers who sign-up, add a line, upgrade, or migrate to the new MyMTN Sky price plans will receive a Summer Data Pass that consist of 10GB Video Steaming Bundle, to stream and download on Showmax and DSTV Now plus a 10GB YouTube Streaming Bundle valid for 3-months. Customers also receive a complimentary 3-months Showmax subscription, complimentary 6-months Apple Music subscription. In addition, customers on MyMTN Sky Bronze, Silver and Gold get free 4GB eVOD streaming data, valid for 3 months.
"We are very excited about the revamped MyMTN Sky offerings. We believe that our customers deserve the best in the market, and this is what we're offering them. MyMTN Sky offers flexibility, choice and added-value, and gives our customers the freedom to choose a package most suited to their needs, usage and individual lifestyles, without losing out on benefits," says O'Sullivan.