MTN has revamped the Made for Me contract packages.
The new data-led packages will be inclusive of Double data (Anytime & Night Express), and more calls (All-networks plus MTN-to-MTN minutes) to cater fully to its customer's evolving mobile needs.
Furthermore, customers also get a once-off free 20GB Anytime data and 14GB Entertainment Pass valid for 30 days.
The new packages will launch on 1 June as a promotional offer to consumers.
 In addition, all post-paid customers who sign up or upgrade for these incredible SIM-only deals during the month of June 2019 will get a free MTN Entertainment Pass ranging from 2GB to 14GB to access WhatsApp, Facebook, Twitter, YouTube, Showmax, DSTv Now, Deezer and Simfy Africa, every month for the rest of this year.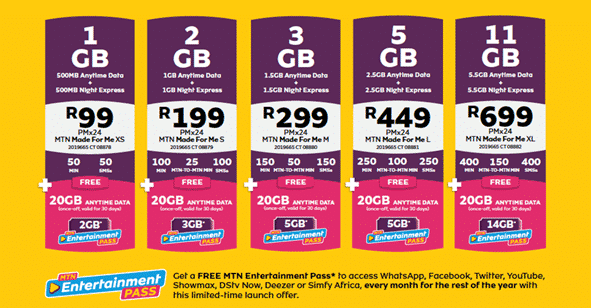 "MTN realises that different customers require tailored solutions to cater for their specific needs. We are constantly seeking ways to offer customers personalised products and provide quality service," says Jacqui O'Sullivan, Executive for Corporate Affairs at MTN SA.
"We believe that these extra benefits will go a long way towards offering our customers value and keep them connected on South Africa's best network."
These changes will come into effect on the 1st of June 2019.