Worldwide, malaria kills an estimated 435 000 each year, mostly children under the age of five, mainly in Sub-Saharan Africa.
A South African biotech startup ERADA Technology Alliance (ERADA) has developed saliva-based malaria asymptomatic and asexual rapid test (Smaart) test known as Salva! which the startup claims is a world first.
Mining group De Beers has contributed €288 000 (R4.7 million) in ERADA.
The foundation grant – which has been facilitated by De Beers Group's Venetia Diamond Mine in Limpopo, in the Northern province of South Africa close to the border with Zimbabwe and Botswana – will support Smaart.
SALVA's global launch is planned to coincide with World Malaria Day next April. SALVA! will complete its field trials before full commercialisation and distribution in 2020.
ERADA was founded by Dr Benji Pretorius and Dr Richard Schmidt, located in Musina, South Africa.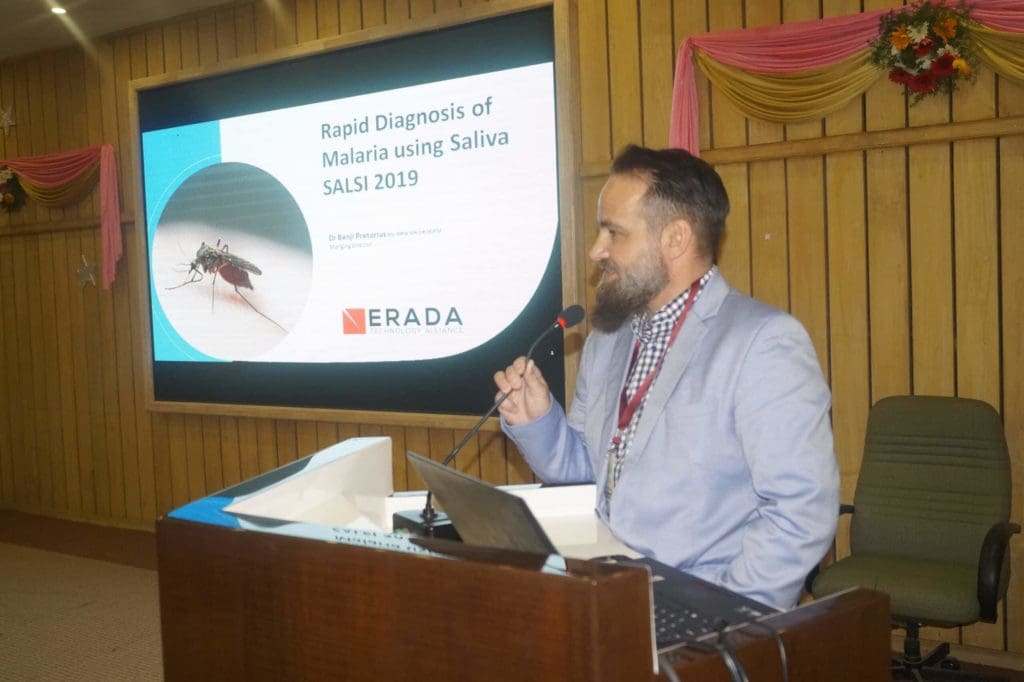 This was done after a unique collaborative effort between the South Africans, Johns Hopkins University and Dinglasan Malaria Laboratory in Florida, US.
From the drastic need for new innovation in fighting Malaria, the SMAART diagnostic technology was born and inspired Dr Pretorius to marry the science with solid, ethical business. The fight to END Malaria will be stronger than before and will drive the vision to eliminate Malaria and other infectious diseases.
"This generous grant from De Beers Group makes it possible for ERADA to complete much of our vital preparatory work before we conduct field trials and finalisation of commercialization of SALVA!
"The introduction of SALVA! is going to play a major part in achieving effective diagnostic testing and surveillance; as well as prevention and treatment of this disease, and therefore will be a major catalyst in meeting the WHO's 2030 target to reduce malaria incidence and mortality by 90%," said ERADA founder, Dr Benji Pretorius.
"As someone who contracted malaria, and as a practising GP myself, I know first-hand that if the parasite had been detected early, I could have been treated and cured before the symptoms of the disease made me unwell.  It was precisely this experience in my life which spurred me on to work with my colleague Dr Richard Schmidt in our small community, Musina, in South Africa, together with a global team of scientists.
"Our vision is to bring to the market as quickly as possible ERADA's SALVA! diagnostic tool in the belief that it will go on to save literally millions of lives in the future. De Beers' generous support is the foundation stone upon which we will make this vision a reality."
SALVA also detects a unique biomarker from female parasites circulating in an infected human who is asymptomatic, but is carrying the parasite and likely to come down with malaria within a week. Early, subclinical detection of malaria is crucial to malaria eradication because individuals who carry the parasite without exhibiting symptoms, known as carriers, are the reservoir which lead to infection of mosquitoes and transmission of the disease.
Gerrie Nortje, general manager of the Venetia mine, the country's largest producer of diamonds with some forty per cent of South Africa's annual production, said mining and exploration operations face a number of unique challenges related to exposure to endemic diseases such as malaria, emergency medical care and in some cases a lack of available health services.
"Our investment in a local business which has the potential to transform the lives of millions of people worldwide is a logical extension of De Beers Group's long history of supporting world and community health projects," said Nortje.
"Through this foundation grant, we are proud to be playing a pivotal early part in the eradication of one of the most pervasive and destructive diseases on the planet."