Few years ago, most telematics software users had a primary need for GPS location of vehicles on a map for dispatching. Today, if a business hasn't evolved from track and trace, it has not evolved.
But MiX Telematics sees a possible future business opportunity that could have huge growth potential in the coming years.
The JSE-listed global fleet management and the vehicle-tracking company is exploring opportunities in commercial fleet managers who are seeking effective technology solutions to enhance their operations and bottom-line.
ABI Research,a global tech market advisory firm assessed the market from the end user's perspective and found that over 60% of operators are planning to increase their investments in technology over the next year.
Adoption of targeted technology solutions allows fleets to track drivers, vehicles, and other assets including cargo in near real-time. Managers are also looking for predictive insights to better anticipate everything from at-risk drivers to unplanned vehicle downtime. "Asset utilization is a key driver of operational costs, which averages $1.74 a mile," states Susan Beardslee, Principal Analyst, Freight Transportation & Logistics at ABI Research.
The premium fleet space total addressable market (TAM) opportunity is seen covering 206 million vehicles with a 19% penetration, according to ABI Research, adding that the total TAM opportunity is valued at $87 billion (R1.3 trillion).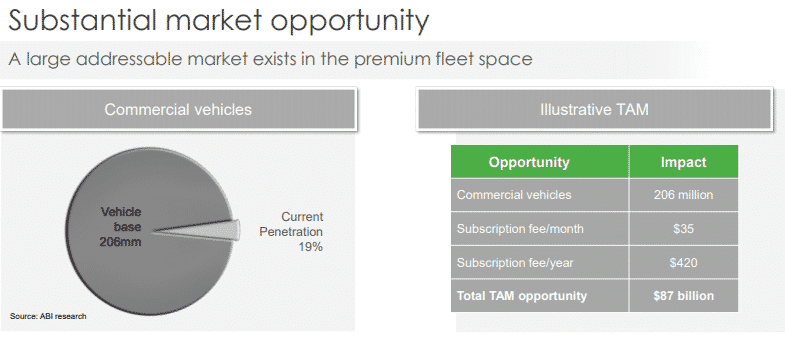 MiX Telematics is targeting to address this large, rapidly growing and underpenetrated market.
"So is still a long runway of opportunity," Stefan Joselowitz, said at Raymond James 41st Annual Institutional Investors Conference on Tuesday.
"We have enjoyed solid growth over the years we've been building this business. We have brought a balanced business where we've maintained growth at the same time delivered profitability.
"We've got a business with very attractive characteristics and ones that I have mentioned of course close to 90% of our revenues are predictable subscription revenues. So, it's an exciting element from that perspective and we look forward to continuing to build it."
In terms of tangible return on investment, Joselowitz said "We are in a space where we are in a luxurious position to demonstrate that we can offer good returns for most customers with our applications.
"So, if we take out our premium fleet offering where our base fleet fee is $40, we can demonstrate that customer would enjoy in the short-term a $240 plus cash return on the $40 they're laying out," he explained.
"So, it should be an easy sell on the market."
Why is MiX Telematics positioned to benefit from this R1.3 trillion premium fleet space?
The company believes it has a strong value proposition delivering clear and proven return on investment from safety, efficiency, compliance and security solutions.
"Our ability to compete globally and service multi-national corporations is a key competitive advantage," said the company.
Other advantages include:
One of few providers with more than 812,000 subscribers
Most providers operate on a regional basis
Why customers choose MiX Telematics?
Proven track record, delivering on-going value to customers for over two decades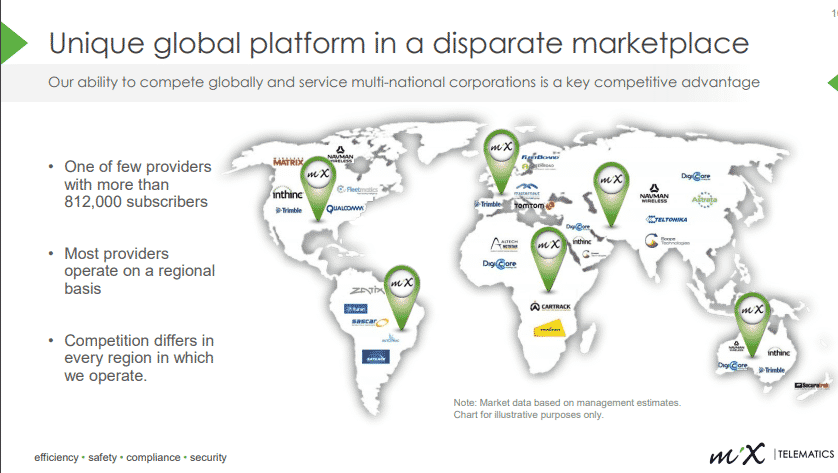 So, what is inhibiting penetration rates in the premium fleet space?
Joselowitz said: "I guess one of the inhibiting factors is around the logistics that's involved in rolling out our services. In most instances, we still required to deploy a piece of hardware which has to be installed in the vehicle and that's the device that harvests the data that enables us to take it to our central services to process it and deliver in terms of meaningful information to our customers.
"So, typically that hardware to deploy it is a 2-3 hours exercise for an average fleet vehicle and that provides the bottom line because a lot of customers would say I love the concept of the savings you talk about. But for me, the 6000 cars to take them now each of the roads for 2 -3 hours each we are currently too busy in our projects to contemplate that the logistic exercise is more complicated than we thought come talk to me again in six months' time," he explained.
"So, as we work towards, and we are making improvements of reducing that logistics component and potentially moving it down to minutes as opposed to hours. That is what I think as an industry is going to unlock much more rapid expansion in this."
The company added in the investor presentation document that it is highly differentiated from small to medium-sized businesses (SMBs) and regional players.
The JSE-listed company said about 72% of its subscription revenue is generated from large fleet customers. "88% of our fleet subscription revenue is generated from customers with 50+ vehicles and 66% of our fleet subscription revenue is generated from customers with 500+ vehicles," it added.