Capital on Tap has revealed the number of businesses and start-ups that have been created as a result of disruptive technologies. The study highlights what industry and countries are leading the way, as well as the jobs roles that are most in-demand and the average salary you can earn in these positions. You can view the full campaign here.
Disruptive technology has emerged and become embedded across all industries. From virtual reality to 3D printing, disruptive technology is now rooted in countries, industries, businesses and our day-to-day lives. But which disruptive technologies are the most popular amongst businesses and what countries are leading the way?
Below are the five most popular disruptive technologies companies start a business in: 
| | | |
| --- | --- | --- |
| Rank | Disruptive Tech Types | Number of companies  |
| 1 | Cloud Consulting | 3,892 |
| 2 | Cyber Security | 2,058 |
| 3 | Business Intelligence and Big Data | 2,011 |
| 4 | Artificial Intelligence | 1,870 |
| 5 | Virtual & Augmented Reality | 1,867 |
Analysing Clutch.co data to find the number of companies that incorporate these disruptive technologies across the world and where their location is based, the US takes the crown with the highest number of business across all major eight disruptive technologies, with India and the UK consistently ranking either second or third across all tech types.
The UK ranks second for the most amount of businesses operating in cloud consulting with 569 companies whereas India has 366 leaving them in third. However, after the US, India has the second highest number of businesses working in the internet of things industry and the UK lands in third (622,433 and 174 respectively).
Poland only makes the list once, the country has 63 companies operating in machine learning but it's the US who ranks the highest with 421 businesses followed behind by the UK with 160 businesses.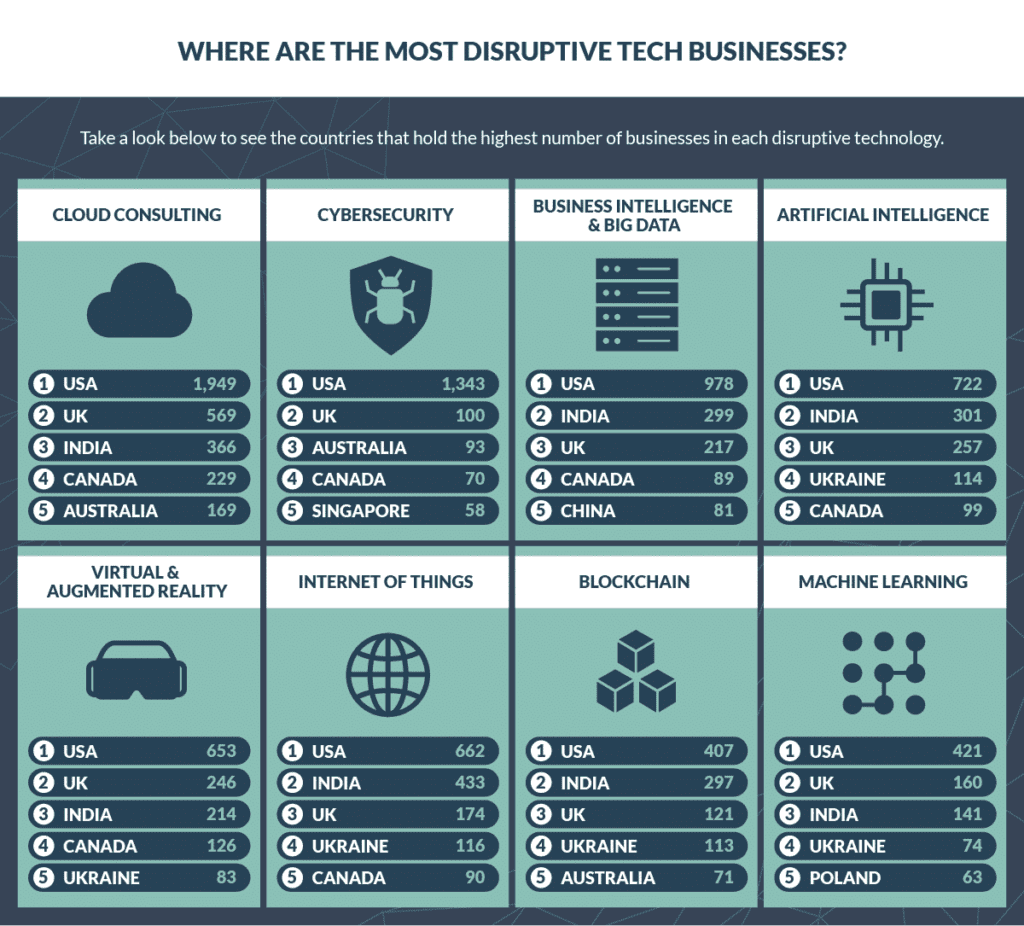 When it comes to the sectors these corporations sit within, unsurprisingly, Information Technology comes out on top with 2,552 businesses. Second is Financial Services and third is Healthcare and Medical (2,178 and 2,138 corporations respectively). Business Services ranks fourth with 2,002 companies and fifth is eCommerce with 1,417.
The internet of things (IoT), augmented reality, and advancements in online learning has also changed the way schools engage with their current student body, so it may be surprising that the Education sector only makes the eighth position with 1,123 companies.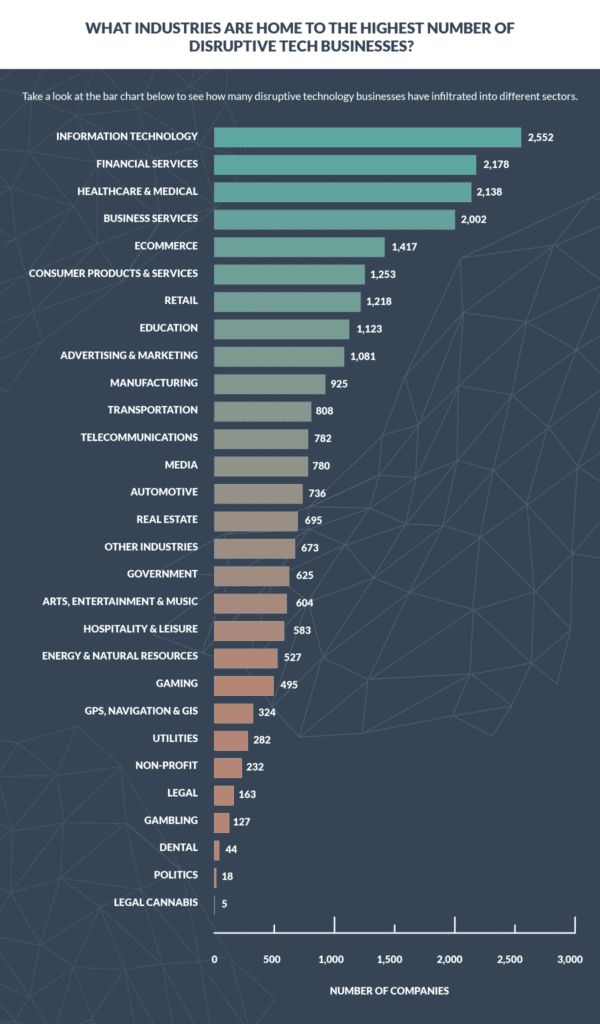 The emergence of disruptive technology has brought forth many jobs, from a 3D Printing Engineer to a Big Data Engineer. But which roles are becoming the most in-demand?
The top five most in-demand roles and their average salaries in the UK are:
| | | |
| --- | --- | --- |
| Disruptive Tech | Permanent Vacancies Citing Tech Type (UK) | Average Annual Salary (£) |
| Business Intelligence | 7,027 | £52,500 |
| Cyber Security | 4,682 | £58,000 |
| Machine Learning | 3,981 | £65,000 |
| Big Data | 3,913 | £70,000 |
| Artificial Intelligence | 3,585 | £65,000 |
Business intelligence is the most sought-after disruptive role with 7,027 available jobs, whilst augmented reality (AR) sits at the bottom with just 76 vacancies available. AR is also the lowest paying with an average annual salary of £45,000. Blockchain has the highest average annual wage at £75,000.
A spokesperson at Capital on Tap comments:
'Disruptive technology significantly changes the way we operate in both our professional and personal lives. It removes old habits and systems and replaces them with something more superior in accuracy, efficiency and the experience it provides. 
Electricity, the automobile and television were all once disruptive technologies that have now become embedded into our everyday life. It is therefore crucial that businesses across all sectors are finding ways to implement them into their companies as these technologies will be here to stay.
Disruptive technologies also provide a great opportunity for businesses to create an entirely new way of doing something that has never been seen before.'