Health and social care in the UK can benefit from the roll-out of 5G and Internet of Things (IoT) technologies, according to new research from Vodafone, a parent company of South Africa's Vodacom.
The report stated that the UK government has committed to building 40 new National Health Service (NHS) hospitals by 2030, with six NHS Trusts already earmarked to receive funding to completely rebuild existing acute hospitals by 2025.
"This is an unmissable opportunity to remodel the whole NHS estate, designing in new 5G and IoT technology from the ground up to optimise everything from patient experience, to clinical collaboration, to equipment, linen and pharmaceutical supply, to smart hospital buildings with energy-efficient heating and lighting, and more," the report stated.
This graphic shows what the hospital of the future could contain if new technology is designed in from the start.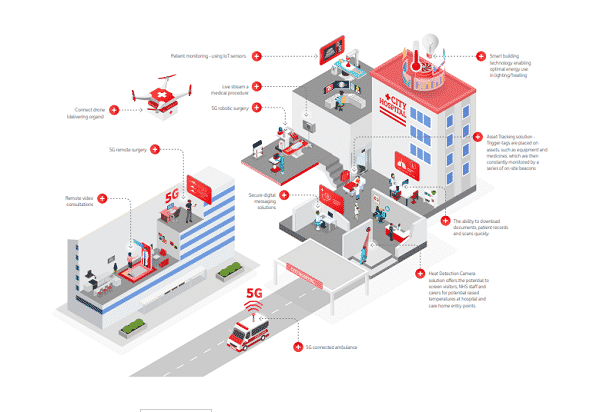 The reported stated that the UK government has already committed to building 40 new hospitals in the NHS in England by 2030.
"These should, as a matter of course, be designed and built in such a way that they are ready to incorporate the very latest digital technology; and the rest of the NHS estate should be upgraded to enable 5G connectivity as well."
The report states that government should invest £1 billion (R20 billion) to bring 5G to every hospital in England by 2025, either via 5G private networks or in-building solutions, according to the desired use cases. And it should commit NHS hospitals to procure
currently available mobile technology, including 5G devices, applications and IoT.
In addition, according to the Vodafone's report the UK government should invest a further £500 million (R10 billion) to encourage the creation of 5G healthcare applications through regional innovation centres, to get even more out of the potential of 5G connectivity and
ensure that the UK is a global leader in healthcare technology.