Imagine a display solution with a built-in microphone, high quality camera and Internet of Things (IoT) sensor hub that works seamlessly with the best Microsoft 365 collaboration tools. A dream display solution is here to stay, in ways that are more relevant in this pandemic economy than you've ever imagined. Here are reasons why a 70 inch LCD monitor from Sharp might be one of your best investments of 2020. Let's take a look at the ways in which this touchscreen display can be a real game changer for your business.
Sharp's new 70" touchscreen is an all-in-one solution
Designed to be the best meeting room screen, Sharp's Windows collaboration display (Model number: PN-CD701 ) comes  equipped with 4K camera and microphone array, an IoT sensor hub and works seamlessly with the familiar Microsoft tools and applications such as Office 365, Microsoft Whiteboard etc In other words, with this screen, there's no need to separately purchase a camera and microphone for any videoconferencing session via your preferred unified collaboration software  The 4K camera has a field of view of 120 degrees and the built-in microphone array can capture sound from upto 6m distance. The screen is certified for Skype for Business and is supported by Microsoft Teams for the ultimate collaboration experience.
The advanced feature of Windows collaboration display from Sharp brings the power of the intelligent cloud into the workplace, using a combination of IoT, and productivity tools.
With the built-in IoT sensors, employees can measure temperature, humidity, light and air quality of the meeting room to ensure a comfortable environment for everyone and that meetings become smarter and more productive.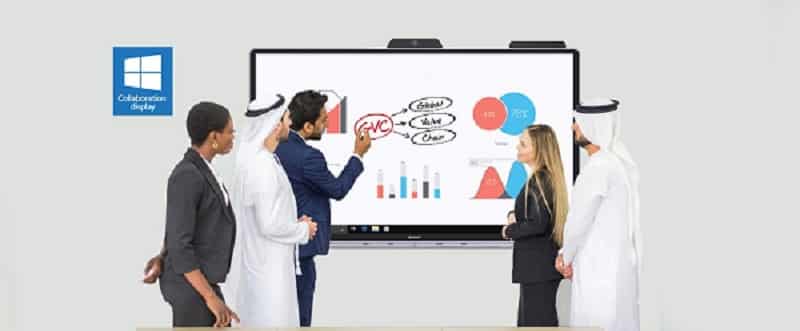 Superior & natural touch experience
The Windows collaboration display offers the ultimate user experience thanks to Sharp's Pen-on-Paper solution. Capacitive touch technology with direct bonding provide for superior touch accuracy and responsiveness. The PN-CD701 has an attractive and elegant edge to edge design. The On Screen Display (OSD) buttons are discretely located on the front for quick and easy control
Lastly, this gigantic screen also comes with a 2mm-tip passive touch pen, for the finer writing experience that encourages interactive exchange of ideas.
Next-Gen collaboration display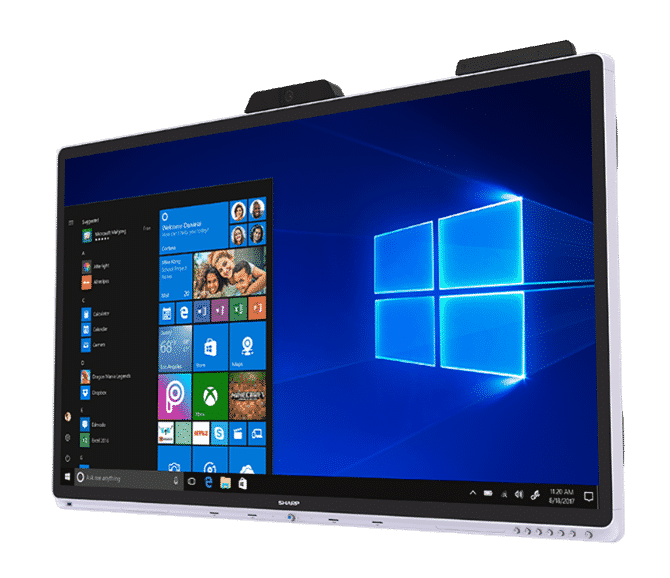 This next generation collaboration display is equipped with USB-C connectivity, the Windows collaboration display offers simple single connection from your connected device which covers all the video, touch, and network data needs, and even charges the same. Sharp also provides an 8m length – high speed, high bandwidth USB Type C cable with each Windows collaboration display. The screen also supports USB-C Out that would enable a second display to be connected for a bigger visual experience.
Effortless device sharing
The Windows collaboration display has in-built Wireless Casting makes it easy to share information from BYOD laptops, mobiles and tablets directly on the display without the need for cables. As a result, you can simply connect your own device to the display and easily share and display any information.
The Windows collaboration display can split into two separate screens, putting it into Picture by Picture (PbP) mode. The Windows collaboration display will show up to two different connected devices out of the five possible connectivity options. The two screens can be any combination of inputs, for example, 1 USB-C + wireless, or HDMI + wireless etc.
The advanced specifications, teamwork centric design and IoT connectivity option of the Windows Collaboration Display from Sharp make this screen integral to the workplace of the future.
Sharp PN-CD701 is now available in the Middle East and African region. Check out here: Windows collaboration display from Sharp