The National Coronavirus Command Council could impose tougher restrictions nationwide as the coronavirus infections rise exponentially leaving private and public hospitals running out of intensive care beds and oxygen.
The Sunday Times reported that the council meets this week to discuss a Covid-19 resurgence.
"I can confidently say that the meeting will be on Tuesday," a government insider told the newspaper.
It followed Wednesday's comment by health minister Zweli Mkhize that "we will need to review the current restrictions and consider further measures to ensure that we curb this alarming rate of spread".
The Sunday Times said new measures could include tighter limits on numbers at indoor and outdoor gatherings, strict control of movement, borders being closed and curbs on the sale of alcohol. It is not clear if the lockdown will be upgraded from level 1.
South African Medical Research Council president Glenda Gray said: "What is most important is to curb the transmission … virus escape [mutation] will drive the next wave. We need to understand that when this wave is over, there is going to be a third and a fourth wave."
SA COVID-19 latest statistics
As of yesterday, a cumulative total of 994 911 COVID-19 cases have been identified with 11 552 identified since the last report.
"Regrettably, today we report 245 more COVID-19 related deaths: Eastern Cape 118, Gauteng 12, Kwa-Zulu Natal 57, Mpumalanga 3 and Western Cape 55 which brings the total to 26 521 deaths," said Dr. Zweli Mkhize, Minister of Health.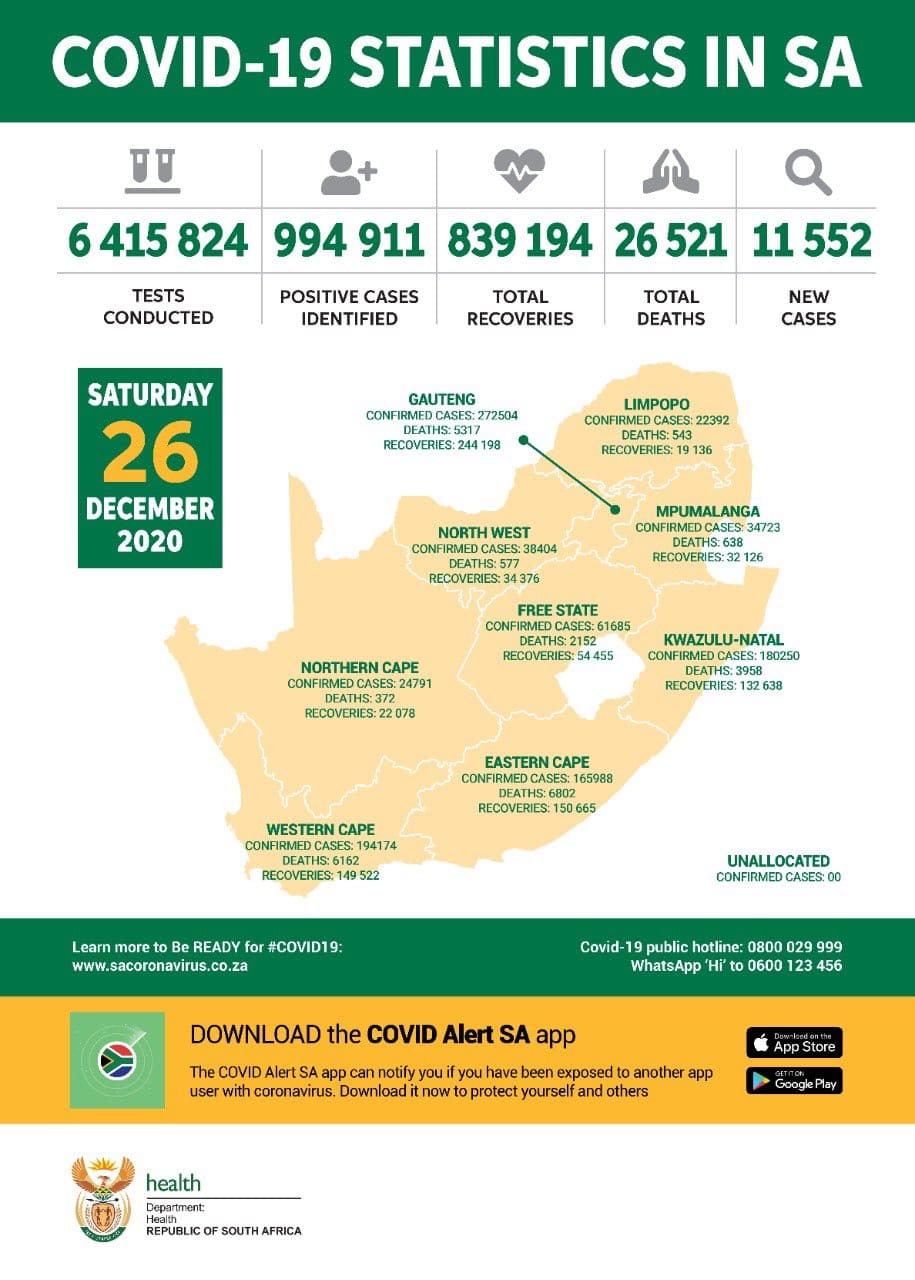 "We convey our condolences to the loved ones of the departed and thank the health care workers who treated the deceased," said Dr. Mkhize.
"Our recoveries currently stand at 839 194."