i-solar, a South African solar energy startup, claims to be transforming how South African low-income households access affordable solar energy through a partnership with mobile phone company MTN.
The startup is funded by Callan Capital Partners, a 100% black-owned and operated investment company, was founded in March 2020. It is South Africa's first and only PayGO solar solution that uses mobile money technology to enhance customer satisfaction.
In September 2020, i-solar was selected in a technology program held by TIA (Technology Innovation Agency) towards developing the township and rural economy.
The startup targets more than one million households in South Africa who lack access to reliable and affordable energy. Many of these households with close to seven million people rely on candles and paraffin lamps that are dangerous and smoky, causing shack fires and respiratory problems to light their homes.
i-solar views the lack of light and power as a roadblock to economic and social development in South Africa, limiting the ability to work, study and communicate digitally.
Partnership with MTN
Penceliah said the startup had developed PayGO, enabling consumers with no credit history to pay small amounts over a few months to own an i-solar solution.
"We have partnered with MTN Mobile Money, Africa's largest telecoms provider, to enable micro-payments using MTN's Mobile Money digital payment system," he explains.
He added the i-solar solution sought to eliminate barriers of access faced by low-income households with our pay-to-own, personal solar-powered grid.
The partnership with MTN enables i-solar consumers and businesses to now pay daily, weekly, or monthly for i-solar solutions through MTN Mobile Money.
i-solar lets you buy a solar product and pay overtime, as little as R1 per day. That means no high up-front cost. It also implies pay when you choose, quickly and electronically, via mobile money.
"We are currently co-branding spaza shops and plan to be available across selected MTN stores in the near future," Penceliah said.
"Through MTN Mobile Money, consumers can make payments through several leading retail stores such as Boxer Stores, Shoprite and more.
"Our devices remotely lock/unlocks for use through advanced technology through MTN Mobile Money payments, enabling great customer experience with and savings to each household."
Asked whether i-solar is likely to partner with MTN's rivals, Penceliah said the startup focuses on delivering off-grid energy with MTN Mobile Money.  "Our platforms are user friendly for most banks and micro-finance organisations to adopt if they wish to enter the off-grid energy industry."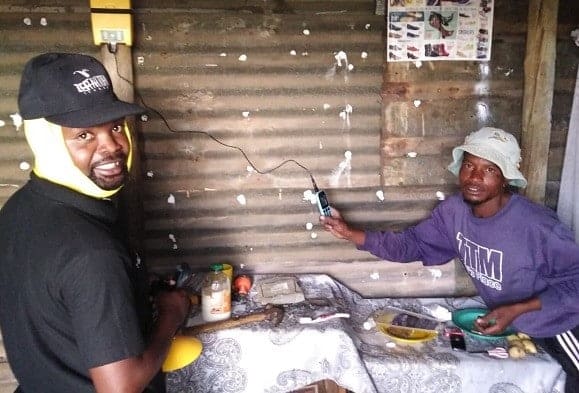 Servicing communities around Gauteng
For distributors, i-solar's Pay-to-Own platform includes a smartphone app for sales agents, web-based customer relationship management and analytics software for staff, and trade finance options to make starting their distribution program a breeze.
"The challenge with customer analytics lies in the areas of accessing data, through AI credit scoring techniques, our sister company develops exclusive customer profile models, enabling greater financial inclusion," argues Penceliah.
The startup currently focuses on its several customers across six informal settlements in the Sedibeng District region of Gauteng and is growing organically.
"In Sedibeng District, there are over 100 000 off-grid households who require our assistance," said Penceliah.
The startup, which provides homes with the lighting, radio and smart device charging needs, plans to launch i-solar for TV, DC Fridges, Clean-stoves, and Hair Clippers for businesses on its Pay-To-Own model.
"The i-solar system is an important investment in our customers' future and something that they are proud to display in their homes," explains Penceliah. "Staying digitally connected is key."
The startup also provides off-grid solutions as a replacement for the energy solutions during load shedding from the national power grid of Eskom. "We have customers in such situations," he said.
The products are currently manufactured overseas with global partners but Penceliah said: "We are in discussions in establishing a manufacturing and assembling plant in Africa for Africa."
Furthermore, i-solar is currently exploring a partnership with the Energy Seta in advancing skills innovation and job creation in South Africa.
"Our focus is currently on South Africa and plan to explore the SADC region over time."