At yesterday's annual presentation, MTN played Nigeria's popular Afrobeats music, which has grown into a global force.
That reminded me of Nigerian writer Chimamanda Adichie who in her most viewed TED Talk of all time, "The Danger of a Single Story", describes the effects that labels can have on how we think about ourselves and others.
"It is impossible to talk about a single story without talking about power," says Adichie.
"There is an Igbo [a Nigerian language] word that I think about whenever I think about the power structures of the world, and it is 'nkali'.
"It's a noun that loosely translates to 'to be greater than another'."
Adichie says like our economic and political worlds, stories are defined by the principle of nkali.
"How they are told, who tells them, when they're told, how many stories are told, are really dependent on power," she says.
"I must say that before I went to the US, I didn't consciously identify as African. But in the U.S., whenever Africa came up, people turned to me.
"Never mind that I knew nothing about places like Namibia. But I did come to embrace this new identity, and in many ways I think of myself now as African . . ."
In that regard, I think MTN finally recognises that it can be more significant as an African entity rather than a South African company.
Opportunities in Africa are vast and largely unexplored.
MTN under Ralph Mupita recognises its uniqueness and wants to invest more in the African business story.
Mupita was appointed as group president and chief executive of MTN on 1 September 2020.
In a way, those at the helm of MTN realise that success lies in the principles of nkali as explained by Adichie.
It is plain to see that MTN is transforming itself into an African player and capturing exciting opportunities in the continent.
MTN has drafted a new strategy named "Ambition 2025" which states there is no better place than home.
The company is already plotting an orderly exit from Middle East markets to focus on Africa.
MTN has already sold assets in Cyprus and in the process to sell a stake in Belgian entity Belgacom International Carrier Services SA.
MTN's strategy is underpinned by Africa's largest connectivity network, using both mobile and fixed access networks across the consumer, enterprise, and wholesale segments.
This development will be accelerated through selective partnerships and leveraging MTN's brand as the most trusted and valued in Africa.
The company is seeing more opportunities in the fast-growing youth population of Africa.
The continent has 800 million people still not connected to mobile internet.
Furthermore, sub-Saharan Africa's mobile internet users are expected to grow to 475 million by 2025 from 272 million in 2019.
Simultaneously, smartphone penetration is seen rising to 65% by 2025 from 50% in 2020.
"We are seeing a compelling African growth story accelerated by the digital shifts that are permanent going forward," Mupita boldly stated at MTN's results presentation on Wednesday.
He said MTN was well-positioned for the long-term to grab these opportunities.
The hope is that Mupita, who has controlled the company's finances for three years, can take advantage of the short window of opportunity in digital services as customers come online for the first time.
It seems the MTN is making the right noises and moves to position itself for a first-mover advantage.
FinTech Opportunity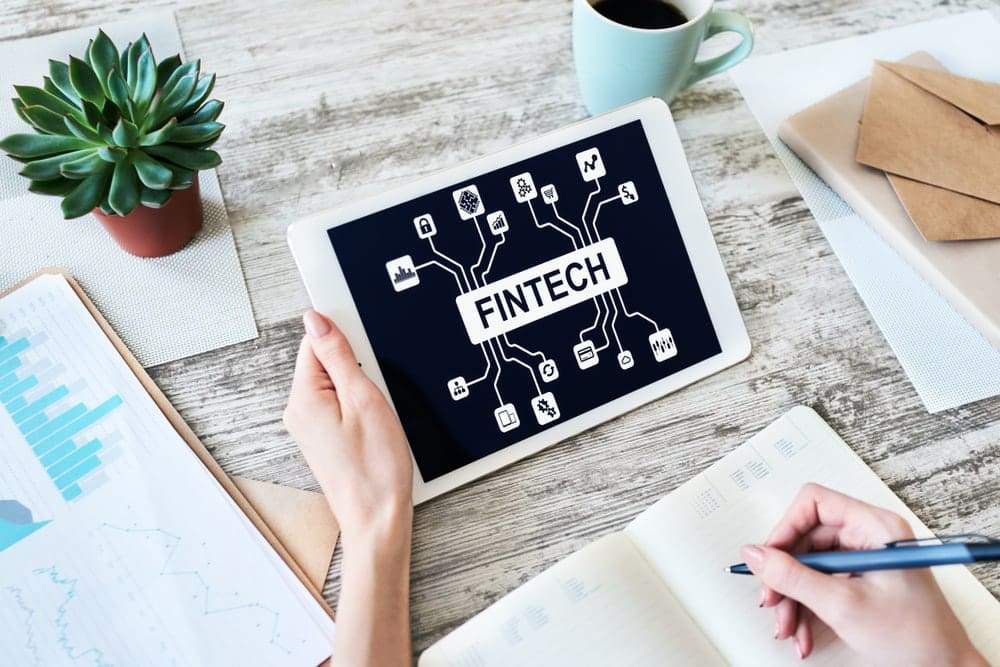 Mupita said FinTech and the delivery of broadband internet present an incredible opportunity.
He says he is prepared to invest in capital to take advantage of these opportunities.
This year, the MTN CEO said he plans to spend R29 billion on the network, FinTech, and digital platforms as part of the "Ambition 2025" strategy.
This will enable MTN to bring financial services to millions of unbanked Africans and tap into the expected switch to mobile banking and e-commerce.
The company already has partnerships with insurers Sanlam and Momentum Metropolitan.
In 2019, MTN collaborated with JSE-listed financial services group, Sanlam, to make a range of innovative and inclusive financial services available to MTN's digitally savvy customers.
"We have a nascent relationship with Sanlam, and we want to expand it across the borders," he noted.
While MTN's aYo joint venture with South Africa's third-biggest insurer Momentum Metropolitan has 11 million registered policyholders and six million active policies as of December 2020.
MTN will likely be creating more partnerships with Sanlam and Momentum Metropolitan to provide innovative insurance solutions across African markets.
The company is also planning to spin off the FinTech business and bring partners plus third-party capital to expand it across the continent.
Mupita sees the FinTech business with already 46 million customers as a scale business. He said the projection was the entity would reach 100 million users within five years.
FinTech includes Mobile Money (MoMo), insurance, airtime lending, and e-commerce.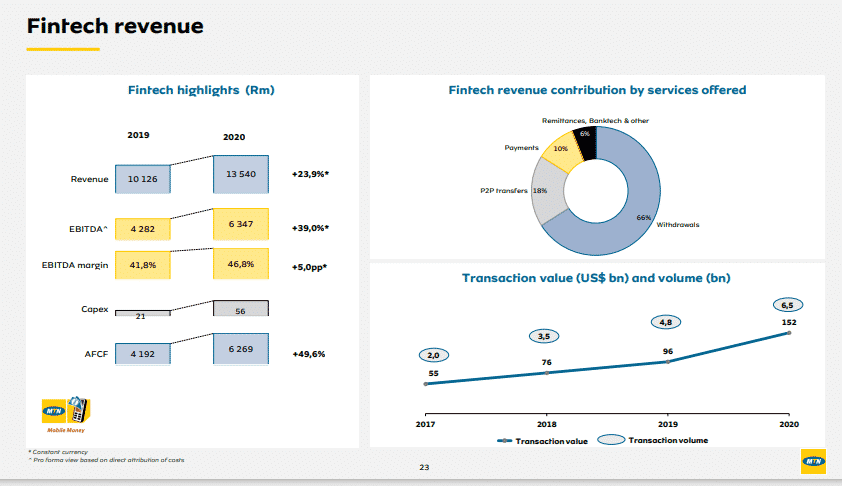 If all goes well in five years, Mupita could be listing a FinTech business on the JSE or Euronext to bring in more investors and capital for further expansion.
It is no difficult task so long the company keeps on making its customers happy.
The company's MoMo business is already a force to be reckoned with in Africa, as the value of transactions was $152 billion (R2.3 trillion) as of December 2020.
MTN also processed 12 400 transactions per minute (up 35% from 9 200 in 2019).
"If we were a bank, we would be a very bank. We see a separation and carve out of our fintech business as something that we have to do," he told 702's The Money Show on Wednesday evening.
Mupita said he was aiming to double MoMo users to 100 million by 2025 from the current 46 million.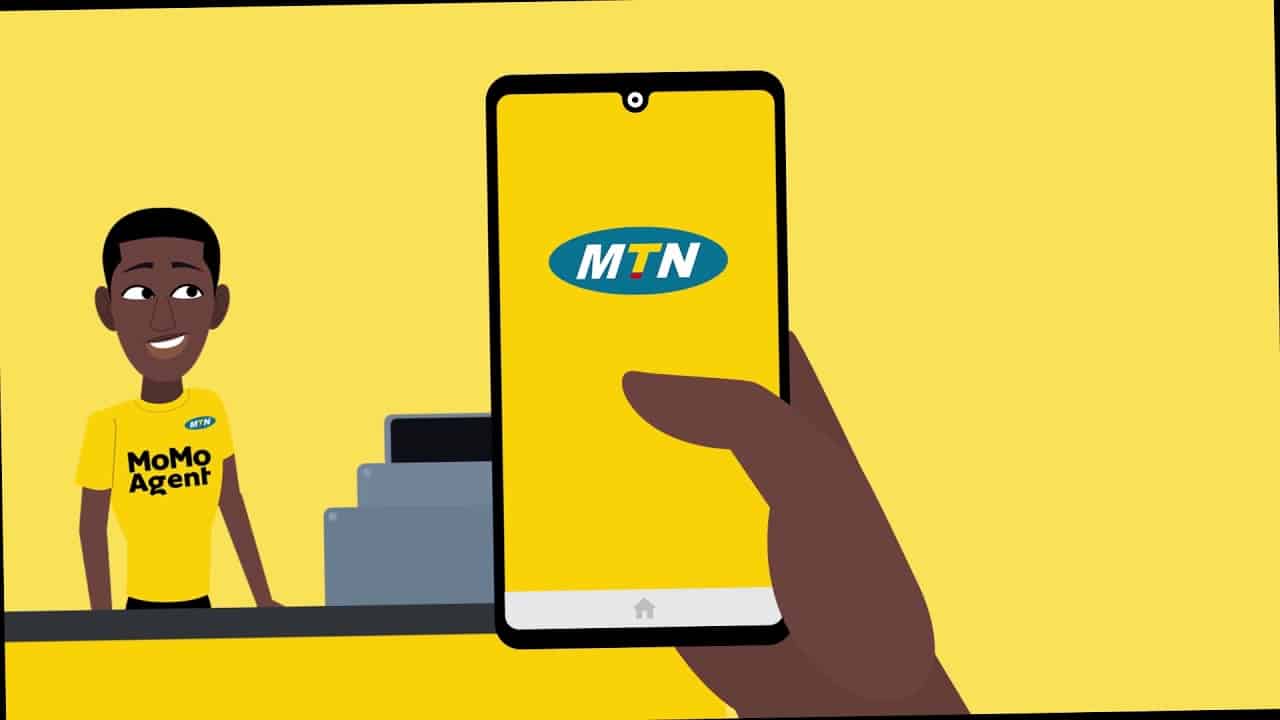 "We have the ambition to double the size of the FinTech business in the next 3 to 5 years," said Mupita.
He said the company, through FinTech solutions, was targeting cash-based communities in South Africa, such as spaza shops.
"We are seeing good growth in a short space of time," said Mupita.
He said the company thinks of FinTech as a massive opportunity in Nigeria.
Furthermore, MTN is making inroads in the instant messaging space, which can unleash more e-commerce services.
Its Ayoba instant messaging app already has more than 5.5 million monthly active users and growing fast.
Mupita sees Ayoba users reaching 100 million by 2025.
In 2020, MTN also extended its digital strategy with the launch of a new pan-African API marketplace called Chenosis, which will enable developers and businesses to discover and subscribe to what will become the most extensive library of open APIs published on the continent. This is a strategic move with long-term benefits for the telco.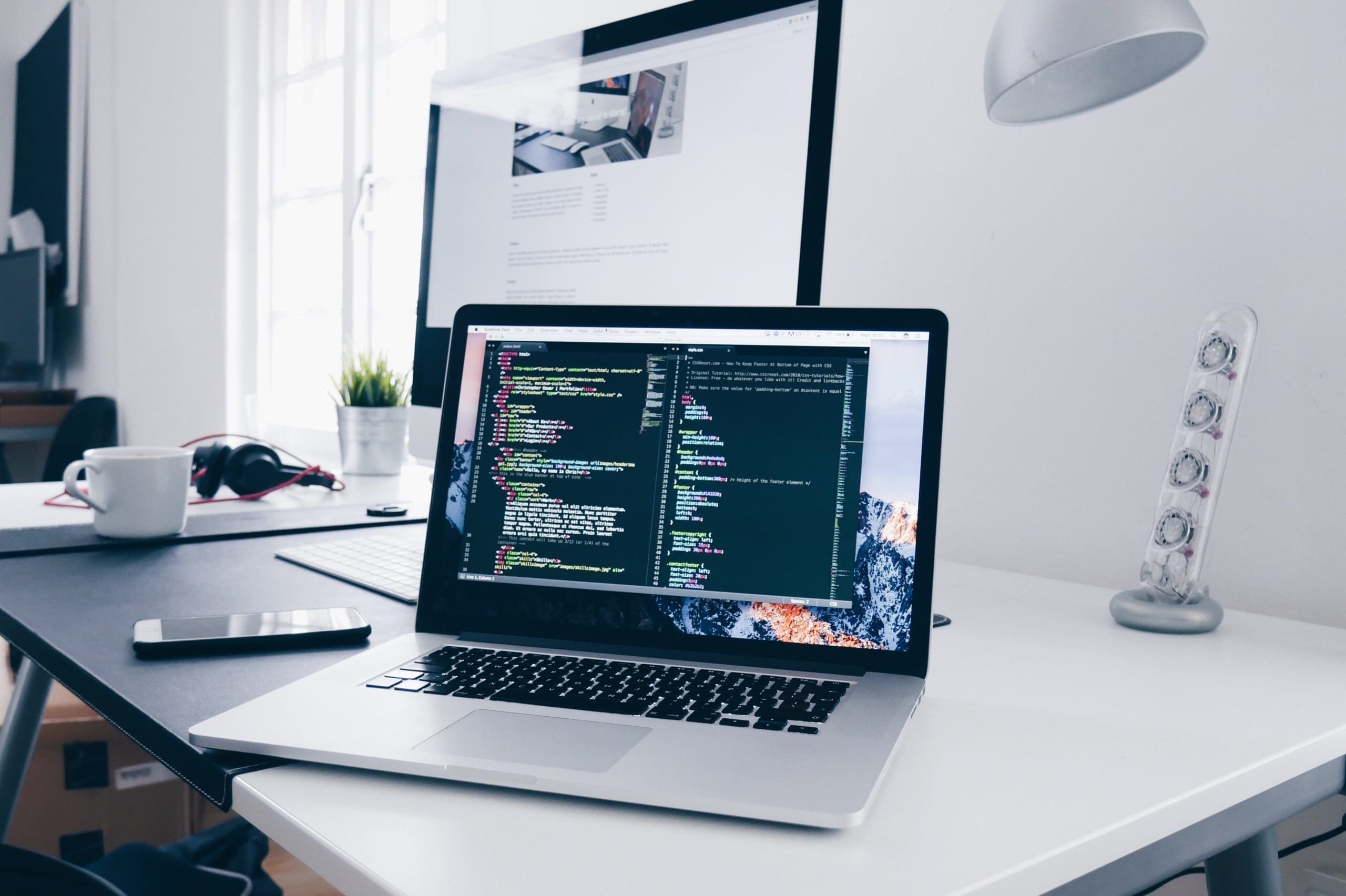 Fibre Opportunity
Furthermore, MTN plans to unleash its fibre business to take advantage of the internet's low penetration in Africa.
MTN has 85 000 km of fibre network across the African continent and intends to seek partners to expand its footprint.
The company will need about $500 million investment over the medium term to invest in expanding its fibre business into an open-access network.
"We are looking to structurally separate this business," said Mupita.
The company is at an advance stage to create FiibreCo.
He plans to "own the home" in Africa by 2025 by having 10 million broadband users.
Mupita is also planning to replicate across the African markets; its similar roaming partnerships with Cell C.
He wants to use MTN's vast network across the continent to support rivals who are number three or four by enabling them to use its infrastructure through roaming deals.
Furthermore, Mupita is indirectly seeking a buy-in or secure a licence to operate from people across the continent under MTN's "Ambition 2025" strategy.
In December 2020, the company announced the intention to list MTN Rwanda directly on the Rwanda Stock Exchange (RSE) by introduction.
This is an essential first step towards further broadening local participation in Rwanda's leading mobile network operator and developing its capital markets.
MTN also completed the localisation of an 8% shareholding in MTN Zambia.
It also intends to sell down a further 12,5% of its investment in MTN Ghana, focusing on local shareholding.
MTN also plans an additional 14% stake sell-down in Nigeria. MTN is also planning Uganda localisation.
The company is also exploring an Ethiopian opportunity as part of its Africa growth story.
In the meantime, the MTN asset realisation programme (ARP), launched in March 2019 and enhanced in March 2020, aims to reduce debt, simplify portfolios, reduce risk and improve returns.
MTN's ARP's states the target is to realise capital of at least R25 billion over three to five years. Over the past 12 months, it has delivered R4,3 billion in asset realisations.
MTN could also realise billions from the planned sale of its IHS stake.
As of 31 December 2020, the fair value of its 29% investment in IHS was recognised at R27,2 billion. The funds could be used to reduce its R49.7 billion net debt.
The company is also exploring tower sales in South Africa.
"We are excited about the strategy. We think the strategy can inflict the prospects of MTN in three to five years. We see this as a force underpinning MTN in the next 3 to 5 years," says Mupita.
The strategy is geared to accelerating MTN's de-risking and growth into platforms that will provide digital solutions for the markets it serves.
At the heart of MTN's ambition is to continue leading the drive for digital and financial inclusion in Africa aligned to its nation-state development agenda.
MTN has to resolve complex litigations to ensure that its executives are spending more time unlocking trapped value.
Hopefully, the MTN story will be the talk, not of all Africa but the rest of the world, in five years.
Let us hope MTN's novel, to paraphrase Adichie, will take overlapping stories of various African cultures to create a genuinely pan-African company that seamlessly connects Africans to the digital world. – lourie@techfinancials.co.za