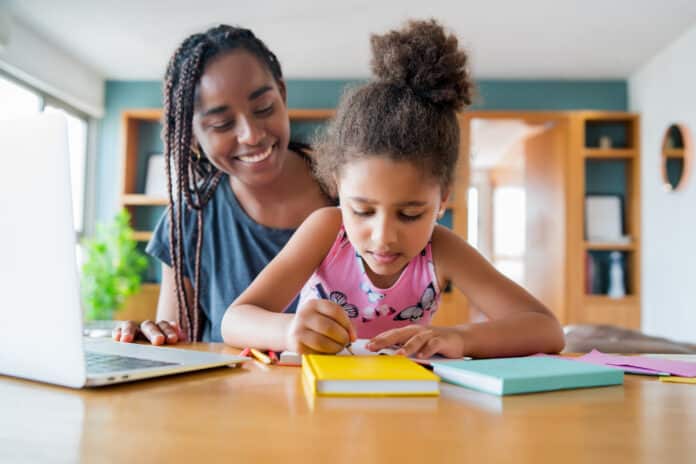 Vodacom pioneered the launch of the e-School portal in partnership with the Department of Basic Education (DBE) in 2014, and the goal was to design a platform to provide access to curriculum-aligned content on a smart device at no cost. This was in line with the technology company's belief in using technology to enable societal change by partnering with government and other organisations to ensure quality digital education for all learners.
"We developed the e-School platform as part of Vodacom's ongoing drive to help provide information and communication technology (ICT) tools and internet connectivity to underserved communities. By providing access to internet services to improve the standard of education, we are able to uplift learners and the quality of education," says Takalani Netshitenzhe, External Affairs Director for Vodacom South Africa.
The online digital education portal provides educational content that is fully aligned to the DBE Curriculum (CAPS) in multiple South African official languages for learners from grades R to 12. E-school is accessible via mobile and desktop, free of charge to all Vodacom customers. Content includes assignments, quizzes and learning videos. Students using Vodacom's e-School are able to complete daily homework questions, revise some of the work they may have done in previous lessons at their school, browse past exam papers, get tips and advice to help them improve their marks, test their knowledge with assignments, download subject material and watch content-related videos.
"The e-School portal is a demonstration of Vodacom's core belief that ICT and mobile technology can be utilised to improve and advance learning while addressing skills development, especially among learners who attend school in remote parts of South Africa. In the wise words of the great Nelson Mandela: 'Education is the most powerful weapon which you can choose to change the world.' E-school has the potential to empower our youth through education to be future leaders in a digital age," adds Netshitenzhe.
No one could have predicted that six years later after e-School's launch, the platform would reach an important milestone in being an invaluable tool for learners and educators around the country. In March 2020, the digital portal addressed a critical need for the scores of school-going children at home on extended school break as the country grappled with the COVID-19 crisis. At the height of the pandemic, user registration on the platform reached the one million mark. The platform now has over 1.2 million cumulative registered users. To show the phenomenal uptake on Vodacom e-School during COVID-19, user registrations on the platform were up by over 1 000% compared to previous historic periods.
The platform is also championed by the Minister of Basic Education, Ms. Angie Motshekga, a proof point for how necessary services like these are in helping South Africa's youth reach their educational goals; and to assist the DBE in meeting its education objectives during the pandemic.
"Looking ahead, it's indisputable that there will still be a need for online learning. The pandemic has shown that if we are to leverage technological innovations in education to promise a brighter future for all, we need to bridge the learning and resource divides that currently exist. At Vodacom, this means providing an enabling environment to access online learning and digital support through tools such as our e-School platform, for both educators and learners, so that no one is left behind in our journey towards a digital future," says Netshitenzhe.
To access the e-School portal, users need to visit www.vodacom.co.za/e-school from their cell phone, tablet, or laptop to register.